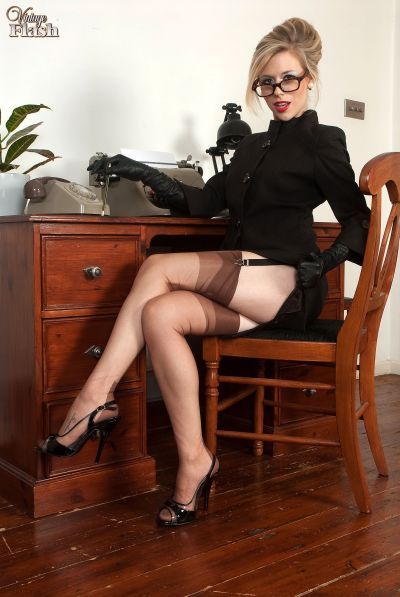 'What's a naughty secretary to do left alone with no work,' Michelle says, having told us her boss has gone off on a business trip and left her lone in the office with little to do. 'You see, I get very horny at work, and I often don't wear anything under here,' she continues, unbuttoning her jacket to reveal she is just wearing a black bra underneath.
Sitting on the edge of the desk Michelle opens her legs, making her skirt ride up over her thighs and rubs her leather gloved hands all over her nylon stocking tops and the metal-clasps of her black suspenders.
'I'm quite glad the boss is away today, as it's not every day I get to strip off in his office and do whatever I want to do,' she continues, unzipping her skirt and letting it fall down her seamed stockinged legs to the floor and pool around her black stiletto heels. Kicking the skirt away, she sits once more on the desk and tugs at her sheer black nylon panties, lifting each cheek of her buttocks as she pulls them down until they are stretched around her ankles.
Discarding her panties, she climbs further onto the top of the desk and lays sideways to give a rear view of her ass, pussy and shapely legs in seamed nylons. 'Oh, that feels so good, rubbing my leather fingers over my tight, little pussy,' she says, massaging the lips of her juicy cunt with her hand between her thighs .
Michelle then gets off the desk, and kneeling on the chair she spreads one cheek of her lovely round arse with her leather gloved hand and with the other she rubs the outer lips of her pussy. Then sitting with her stockinged legs wide open she vigorously massages her lubricated slit to bring herself off to a noisy climax.
Get our superb Vintage Flash newsletter each week - all the latest model info, updates, set preview pics and more!