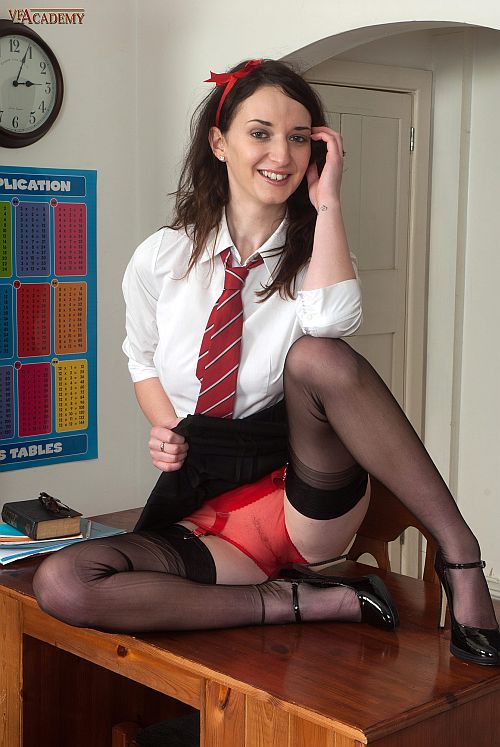 Kim had a dilemma! As her white or black regulation undies were in the wash she decided to wear a saucy set of red bra, panties and matching garter belt under her uniform. One of the teachers noticed her bra was hardly concealing her erect nipples under her shirt, then on closer inspection discovered she was wearing racy red underwear, so he sent her to sit on her own in the detention room.
'I'm sure you'd like to see my suspenders and lacy underwear to match', Kim says, climbing on top of the teacher's desk and lifting her skirt to show off the red garterbelt attached to the tops of her seamed black stockings. Then she sits with her legs slightly parted to give an view up her skirt at her trimmed pubic hair, which is clearly visible through the sheer nylon panties she is wearing.
'Ooh, my nipples are quite hard now, as I'm excited at the thought of you watching me!' Kim remarks, fondling her breasts through the tight fabric of her crisp white shirt. Then inviting us to have a better look, she unbuttons her shirt to reveal the no-cup bra that she's actually been wearing underneath. It's no wonder she's in trouble, as this provocative item of clothing hardly supports her pendulous tits, let alone covers them up!
Kim's school tie hangs down between her cleavage as she pushes her fleshy titties together, kneading and massaging them in her hands, then teasing the puffy erect nipples with her fingers. Squeezing her tits with one hand, she feels up her pussy through the crotch of her sheer nylon knickers with the other.
Kim then stands and removes her skirt, bending over for some close up views as she slips her hands inside her knickers and masturbates. Then pulling and stretching her red knickers all the way down her seamed stockinged legs, she gets on top of the desk and rubs her naked cunt to give herself an orgasm.
Get our superb Vintage Flash newsletter each week - all the latest model info, updates, set preview pics and more!