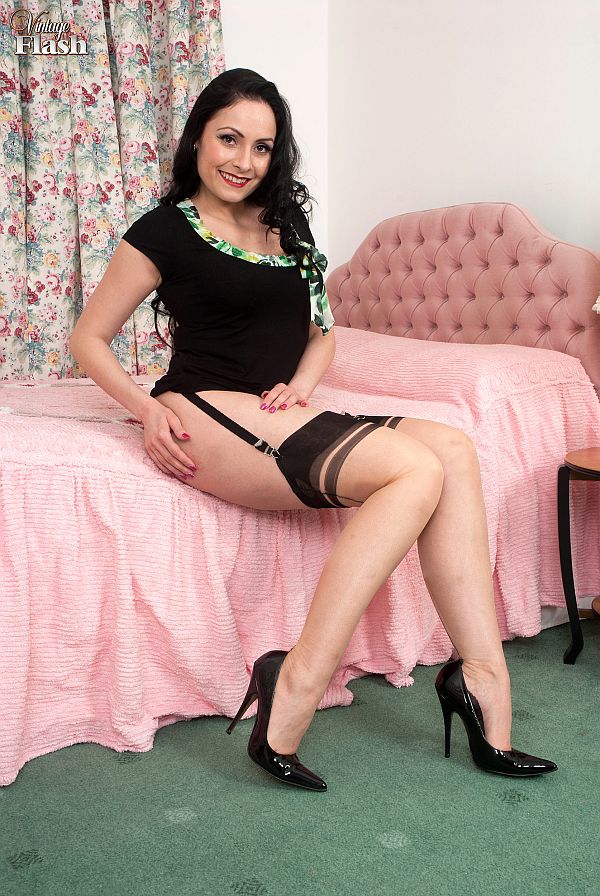 '
'I love wearing them they feel so sexy on my feet,' Sophia said, talking about her patent leather, stiletto heels and admiring her legs as she sat on the bed in her tight fitting top and pencil skirt. 'I love how my black seams run all the way up my legs in these vintage nylon stockings,' she added, lifting the hem of her skirt to show the black tops of her fully-fashioned nylons. 'Do you like them, I put them on specially for you!
Sophia unzipped her skirt and looked over her shoulder as she wiggled her ass and leaned slightly forward, letting the skirt fall down her legs to reveal she was wearing black, shiny panties. She adjusted the tops of her nylons so they were straighted up around her thighs, then bent over for another view of her silky panties stretched tight around the cheeks of her arse.
Removing her top to revealed her all natural breasts were supported by a vintage lace bra which held her boobs firmly in place, then she pulled down her panties to show the matching lace garter-belt and the black suspenders that stretched to the tops of her stockings.
Sophia turned to give a rear view as she eased her black panties over the flesh of her lovely ass and pulled them down her seamed stockinged legs to the floor. Then she slipped the straps of her bra over her shoulders and juggled the fleshy mounds of her breasts in the bra cups, before finally stripping the bra away to play with her perky nipples.
Sophia knelt on the bed with her ass titled up as she massaged her pussy in full view, then laying back she fingered her hot pink cunt and a talked dirty as she masturbated in her nylon stockings and suspenders.
Get our superb Vintage Flash newsletter each week - all the latest model info, updates, set preview pics and more!