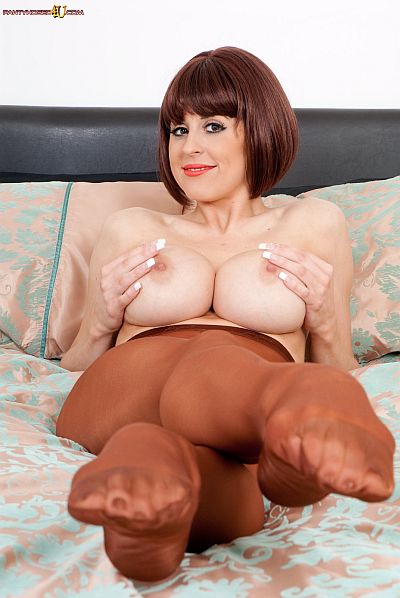 Glamourous, busty and leggy, Louise Jenson is a delight to watch as she puts on a sexy nylon leg show in her video at Pantyhosed 4U.
Louise was really enjoying the sensation of her pantyhose against her skin, as she sat on the edge of the bed and caressed her slender legs encased in nylon
'You know how I always like to wear the best, so today, I've got on just for you, some beautiful Fogal pantyhose', she said, smoothing her hands all the way from her ankles, up to the tops of her thighs. 'I love the way it just clings to me.'
I could hear the nylon swish as she crossed her legs and lightly moved her fingers over her knees, and I got in closer to enjoy the sensuousness of her hands brushing against her nyloned thighs.
As she stood to show me more, I noticed how Louise's pantyhose enhanced the shape of her legs as she stood in her heels; the subtle curvature of her leg muscles looked like perfection encased in the shiny sheath of her expensive nylon hose.
Delightfully delicious and dirty, Louise revealed all as she striped off her top to let her boobs hang free, then opened her legs to masturbate on the bed.
See Louise Jenson in pantyhose in this (140 image) photo set, and watch her masturbate to a pantyhose climax in her video – 'Designed For Delight' at Pantyhosed 4U.
Get our superb Vintage Flash newsletter each week - all the latest model info, updates, set preview pics and more!