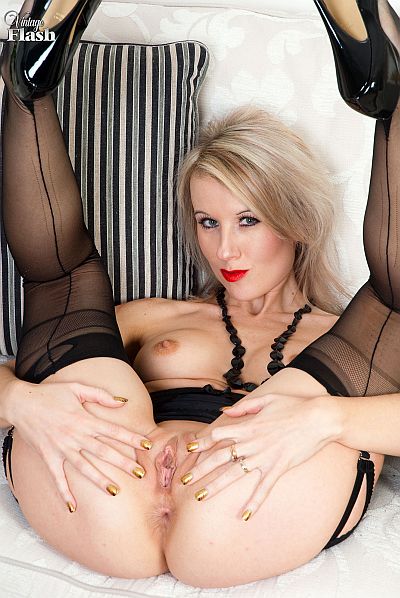 Evey is a very sophisticated continental blonde, and like all continental ladies she likes to dress in something sexy and elegant whenever she is going to a soiree.
Evey was wearing a very sexy outfit when I shot this video, and some very classy lingerie that is designed to attract attention, as you will see…
'I'm wearing a very tight skirt, with a naughty split so you can see that I'm wearing some very sexy nylons,' she said, as she parted the material and lifted it slightly to give me a tantalizing glimpse of her thighs and the tops of  her vintage MINUIT stockings.
Keen to show me what she was wearing underneath her sheer blouse and tight fitting pencil skirt, Evey started to strip out of her sexy attire.
'I'm feeling very naughty today,' she said, as she began unbuttoning her blouse. 'I want you to be naughty as well, so why don't you get your cock out and start stroking it slowly while I tease you as I undress.'
What followed was incredibly arousing as I videoed Evey put on an expert leg tease show, seeking admiration for her vintage French full-fashion black nylons.
Having slipped off her tight skirt, she revealed she was wearing a high class cut-away girdle, which suited her figure perfectly, and a fabulous vintage sheer bullet bra covering her pert breasts.
Evey was so very aroused from putting on her sexy display for me, she had to finish off by masturbating with her stockinged legs wide open and her peachy ass center stage as she fucked herself to a satisfying climax.
You can see Evey's seductive striptease in this (148 image) photo set and watch her pleasure her pussy in her video – 'Girdled Showoff' at Vintage Flash.
Get our superb Vintage Flash newsletter each week - all the latest model info, updates, set preview pics and more!