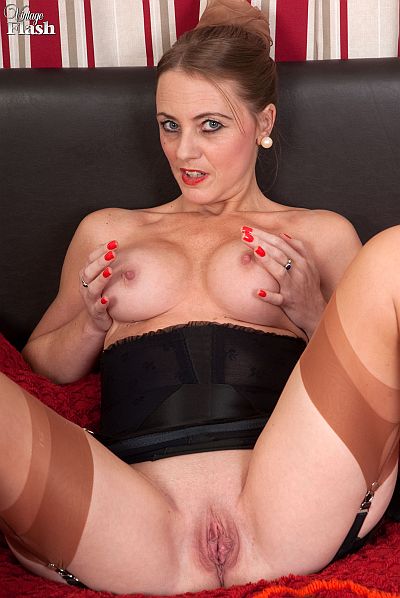 Tricia is a lonely housewife with a lot of spare time on her hands, and felt she needed some male company to entertain her during the day. So she advertised on the Internet for 'gentlemen interested in meeting a mature lady who prefers to wear girdles and nylon stockings'.
She was really pleased to see me when I turned up at her home, though I was a little late due to traffic, and immediately invited me up to her bedroom.
Tricia had agreed to let me video her, and she began by showing me what she was wearing – a tight gray pencil skirt, sheer black blouse with a wide belt around her waist, seamed stockings and black patent heels.
I noticed the bumps of her suspender clasps through the material of her skirt, and she lifted it up to show me more of her legs and those seamed 'black foot' stockings she was wearing.
Hiking her skirt up higher, Tricia showed me her black vintage high waisted girdle which hugged her hips tightly and clung to the shape of her lovely arse.
Tricia then slipped off her skirt and removed her blouse and bra in front of me, until she was only left wearing her girdle and stockings.
Getting onto the bed, Tricia rubbed her stockinged legs and showed me the soles of her seamed soles, then slipped a vibrator in her pussy while I videoed her masturbating with her legs wide open.
See Tricia West in this (150 image) girdle and stockings photo set, and watch her masturbating in her video – 'Lonely Lady Needs Company' at Vintage Flash.
Get our superb Vintage Flash newsletter each week - all the latest model info, updates, set preview pics and more!