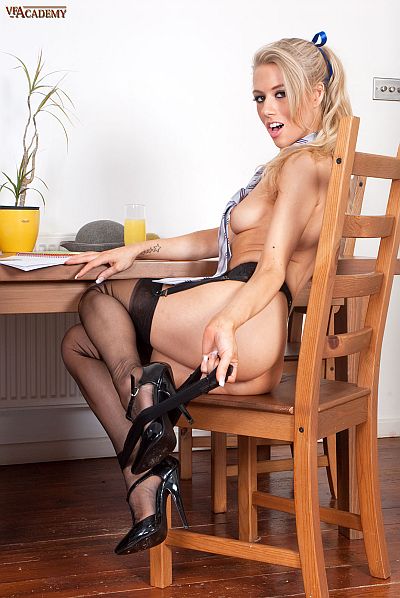 Michelle is trying to finish her homework, but she can't get her head around angles; that is, until she relates them to cocks!
'Now, when the boys' cocks get hard, they make an angle,' she asserts. 'I'm not sure which ones they make, but if I come up with some methods to make them hard, I could measure their angles!'
Michelle has come up with the perfect solution for getting her work done and making it interesting at the same time. She'll have no problem finding erections to measure, especially as the boys love looking at her stockinged legs.
'They look at my legs a lot, up my skirt, through my blouse, wherever they can,' she tells us smoothing her hands over her nyloned legs.
'Now in order for me to have your help with my homework, I'll need you to get your cock out, right now,' Michelle demands, as she begins stripping off her blouse and uniform.
'Hopefully this will start you off; rubbing my stockings, pulling my skirt up!' She says, as she sits with her legs open and begins massaging her pussy through the front of her black knicker crotch.
Michelle demonstrates exactly how she is going to tease those erections to fullness; bending over to show off her seamed nylons, pulling down her panties, slapping her pussy with a ruler, and frigging her moist pussy hole to reach an intense climax.
Michelle says she 'needs more hard cocks to complete her project', so let's see if she can raise yours when you watch her video.
See Michelle Moist's stocking tease photo set to get started, then watch her wanking with fingers right up her pussy in her video – 'Angle Of The Dangle' at VF Academy.
Get our superb Vintage Flash newsletter each week - all the latest model info, updates, set preview pics and more!