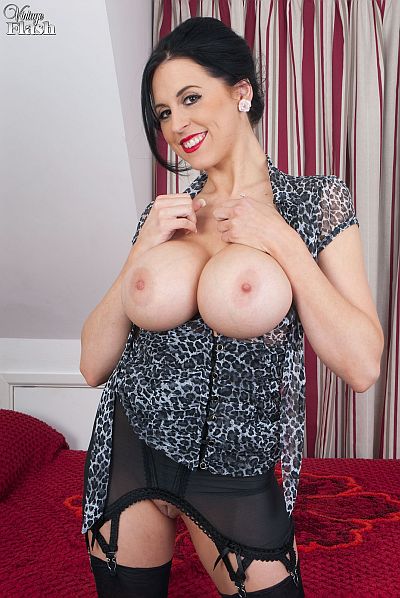 After having cooked her hubby a lovely meal, and brought him his pipe and slippers, dutiful wife Louise has some needs of her own, which only a man can satisfy.
To make sure her man rises to the occasion, Louise is wearing some lovely black seamed full-fashion nylons and patent black leather D'Orsay heels.
'So do you like my stockings, and my beautiful shoes?' She asks, stretching out one leg to draw our attention to what she is wearing. 'Just for you darling,' she says as she strokes her stockings. 'You know how much I like to please you – do anything for you.'
Louise pulls back the hem of her skirt to show she is wearing suspenders with metal clasps attached to the tops of her black stockings.
'So darling, do you think you can give me what I want now?' She inquires. 'Maybe a little stockings worship,' she suggests, running her hands over svelte nyloned legs, 'because I'm such a good wife?'
As she strips off her sheer leopard print blouse and tight pencil skirt, Louise reveals she is wearing a black, high waist girdle, which accentuates her curves in all the right places.
She kneads and massages her huge pendulous tits in her hands as she poses pin-up style on the bed, so provocative and enticing.
Laying back on the counterpane, your sexy girdled wife spreads her stockinged legs wide and uses her fingers to masturbate openly in front of you.
Her hand quickens as her excitement mounts, and she opens her moist pussy in readiness to receive your cock and give her a damn good fucking!
See Louise Jenson striptease down to her girdle and stockings in this (187 image) photo set, and watch her masturbating to climax in her video – 'Duties Of A Loving Wife' at Vintage Flash.
Get our superb Vintage Flash newsletter each week - all the latest model info, updates, set preview pics and more!