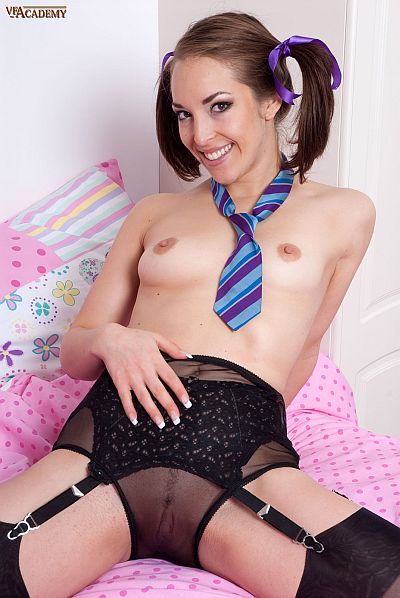 'Every time she lent over to write on the board, her skirt lifted, and I saw the tops of her lovely nylon stockings…'
Wrote Jess in her diary, as she sat in her bedroom writing down her lustful thoughts about her favorite teacher.
When we catch her thinking out loud as she writes down her dirty desires, she confesses she has been fantasizing about the delectable Ms. Kiss for a very long time.
'She turns me on so much, I always have to play with myself after class, ' she admits. 'Do you want to see what I do?'
Kneeling on the bed, Jess lifts her pleated school skirt to show us her pussy encased in sheer nylon panties, framed by the straps of her black suspender belt and the tops of her stockings.
'I'm getting wet now just thinking about her,' she says as her hand brushes the slit of her teen cunt through the black nylon mesh, getting herself moist and ready as she imagines it's MS Kiss who is touching her up!
Jess gets so aroused by thinking about her sexy teacher, she removes her uniform skirt and crisp white blouse to get down to some proper masturbation. Then stripping off her moist and clingy nylon knickers, she opens her stockinged legs and deep fingers herself to a wet squelchy orgasm!
See Jessica stripping out of her uniform in this (201 image) photo set and watch her wanking in her panties and nylons in her video – 'Secrets In My Diary' at VF Academy.
Get our superb Vintage Flash newsletter each week - all the latest model info, updates, set preview pics and more!