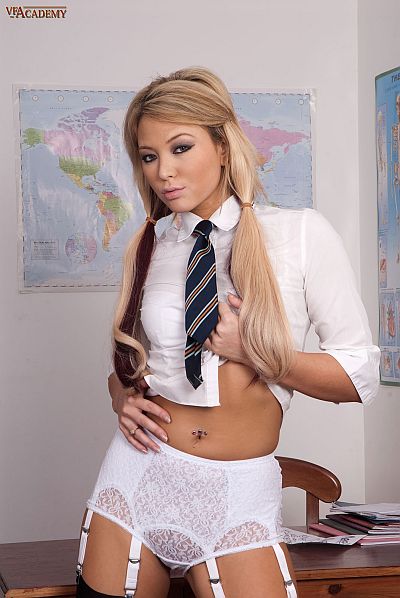 Natalia was waiting to meet Faye in one of the classrooms during lunchtime for a bit of girl-on-girl fun and games.
However, Faye has not turned up for their lesbian tryst, and Natalia is so sexed up she needs satisfaction right now!
'I'm so damned horny, I was really looking forward to that', said Natalia as she sits on the desk with her skirt up and her legs open, one hand rubbing at her pantie crotch. 'Oh, well,' she smiled, 'at least you're here, aren't you!'
Standing with her skirt up and sexy black nylon clad legs apart, naughty Natalia masturbates her moist pussy through the tight white material of her lacy white panties.
'I'm feeling like a very filthy and naughty girl today,' says Natalia, as she starts taking off her uniform. 'Maybe it's a good thing she didn't turn up after all,' she remarks, while unbuttoning her blouse. 'Now it's just me and you!'
Oh yes, Natalia is in a real dirty mood – ready to show you everything as she strips off, plays with her teen tits, pulls her knickers down over her seamed stockings, and lets you see how she plays with her hot teen cunt as she wanks on the teacher's desk.
Knowing you are there watching her wanking just turns her on even more, and as her wet fingers ream her juicy hole she cums loud and hard! What a dirty little bitch!
See Natalia wanking in panties and stockings in this (156 image) photo set and full length movie – 'Stood Up' at VF Academy.
Get our superb Vintage Flash newsletter each week - all the latest model info, updates, set preview pics and more!