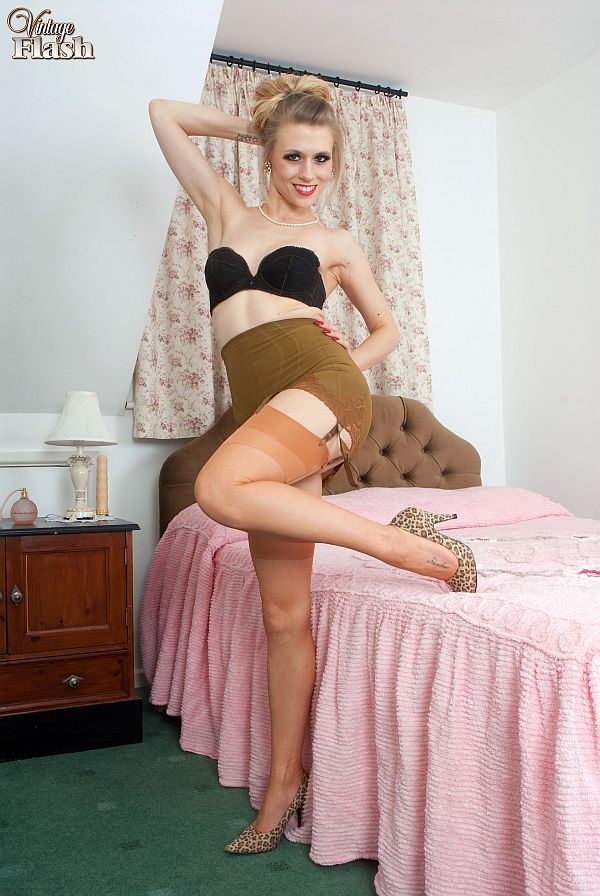 Michelle had just got back from her shopping trip in the west end of London, wearing some 'picture frame' fully-fashioned nylon stockings she wanted to show me…
'Only the ladies with expensive tastes can afford these, I assure you' Michelle said, as she stood and posed in her sexy fur trimmed jacket and pencil skirt outfit. 'They are beautiful and they feel divine,' she remarked, lifting the back of her skirt slightly and reaching down to draw her gloved fingers up the back of her legs in seamed nylon stockings.
'Some of us ladies looking like this, we may wear all the pearls and finery, but we have secrets too,' she confided, stretching out one leg and drawing her hand over the nylon and up to her thigh in a very seductive way. 'We get a little horny and dirty,' she revealed, pulling the skirt up higher to give a glimpse of her suspenders, adding, 'you'll probably be very shocked to find out exactly what we think about.'
Michelle showed the special pattern on the heel of her stockings by lifting her feet slightly out of her shoes as she reached down to stroke her ankles. 'So when you next see a picture frame heel like these, you'll know that the lady wearing them is not just one of class, but one who enjoys a little naughtiness too.'
Michelle stripped off her jacket to reveal she was wearing a black bra underneath, then removed her skirt to show she was wearing a open bottom girdle which clung to the contours of her buttocks. She then knelt on the bed and gave a view of her arse; the taut suspenders of her girdle pulling and stretching on the tops of her stockings, nicely framing the lips of her pussy which could be seen between her naked thighs.
'I bet you didn't expect this posh totty to get down and dirty, did you?' Michelle asked, unclasping her bra and letting it fall away so she could squeeze her tits together and pull on her nipples. Then she spread her legs wide so the gash of her pussy was in full view and inserted a dildo between the lips of her cunt that glistened with her sex juices.
'I'm such a dirty posh, bitch!' She exclaimed, as she plunged the dildo inside her cock hungry cunt, ramming it deep and squealing with sexual delight as she climaxed in her sexy girdle, nylon stockings and heels.
Get our superb Vintage Flash newsletter each week - all the latest model info, updates, set preview pics and more!