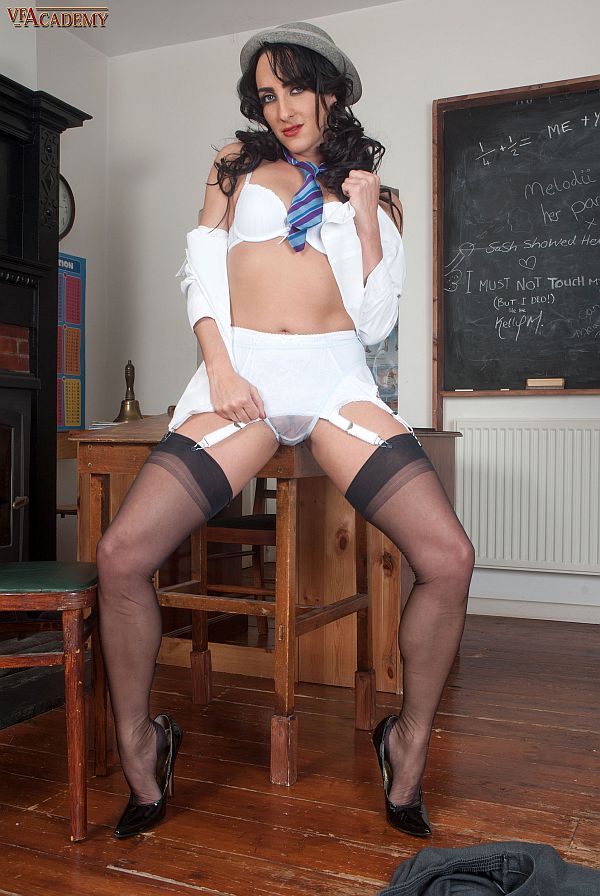 Chloe is in detention again but unwilling to do her lines and easily distracted by the caretaker who has come along to see what she is up too…
'Do you like these stockings tops, they look so sexy,' Chloe said, pinging one of her suspenders so it snapped against her thigh and opened her legs to give an upskirt view of her panties and the webbing of her garterbelt attached to the tops of her nylon stockings. 'Yeah, they are very see-through aren't they,' she said, referring the the sheer crotch of her nylon panties, through which the slit of her pussy and wisps of pubic hair were clearly visible.
Chloe stood and lifted up her skirt to tease the caretaker, turning to give him a view of her ass in sheer nylon panties, then bent over so the suspenders of her multi-strap garterbelt stretched over the back of her thighs and pulled taut on the tops of her and black nylon stockings.
Chloe unzipped her uniform skirt and let it fall down her stockinged legs to pool on the floor around her heels and stepped out of it. She then sat and lifted up her feet onto the top of the desk and caressed her shapely legs in their seamed nylon stockings and patent leather heels.
Stripping away her white bra she played with her stiff nipples, then slipped her hand down the front of her panties and rubbed the mound of her pussy behind the thin, sheer nylon of her pantie crotch. Then she knelt in the chair to present a view of her fabulous round arse and teasingly tugged her panties over her cheeks and down to her thighs. She then rubbed her hands over the flesh of her naked buttocks and gently swayed her bum from side to side in a very suggestive way.
Chloe sat in the chair once more and lifted her legs so she could pull her panties down and over the spikes of her shiny stiletto heels. Then discarding her panties she climbed onto the top of the desk and with her legs wide open she masturbated to climax with her fingers slotted in her sopping went cunt.
Get our superb Vintage Flash newsletter each week - all the latest model info, updates, set preview pics and more!