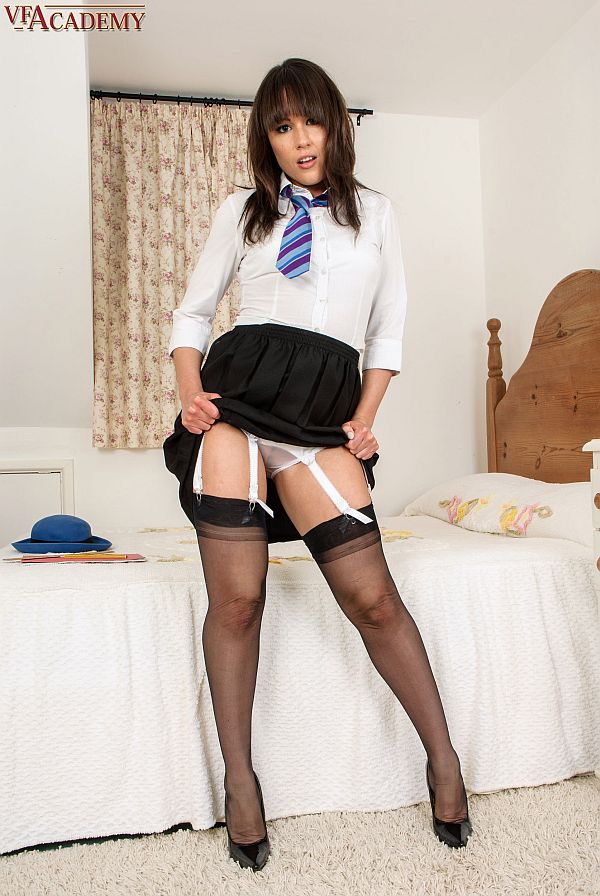 Lucy is in trouble again and has been sent to stay in her room and think about what other punishment Ms Rouge may have in store for her later…
'Maybe she's going to bend me over and spank me like this!' Lucy says, turning to lift her skirt and giving her ass in white, sheer nylon panties a slap with the palm of her hand. 'Maybe she'll try and humiliate me and make me undress in front of her,' she adds and imagines her teacher will be secretly masturbating under her desk as she watches her strip off.
'It's actually turning me on, thinking about it,' Lucy admits, as she begins to undo the front of her blouse and opens it to uncover her white bra underneath. 'I wonder if she'll make me take my skirt of as well, right in front of her,' she adds, sliding her skirt down her stockinged legs and revealing her white satin, garter-belt attached to the tops of her nylons.
'I always wondered what it might be like to play with an older lady,' Lucy fantasizes, thinking about what her teacher will do once she's undressed and standing before her clad only in underwear. 'Maybe, she'll make me pull my panties down and then she can spank my bare bottom,' she speculates, hooking her thumbs into the elastic of her knickers and pulling them down to leave them stretched just under the cheeks of her arse.
Lucy bends over as she strips her knickers down her shapely legs in their black, seamed fully-fashioned nylons to remove them from her shiny, patent leather heels. Then removing her bra she lays on the bed, pulling her legs back so the puckered ring of her ass and the lips of her pussy are in full view as she begins to masturbate.
Getting into a kneeling position with her ass tilted up, she fantasizes about her teacher making her lay over the desk and fingering fucking her pussy from behind. Lucy gasps with pleasure as her fingers slip between the pink lips of her moist cunt, and dipping them in and out of her sticky hole she masturbates to climax.
Get our superb Vintage Flash newsletter each week - all the latest model info, updates, set preview pics and more!