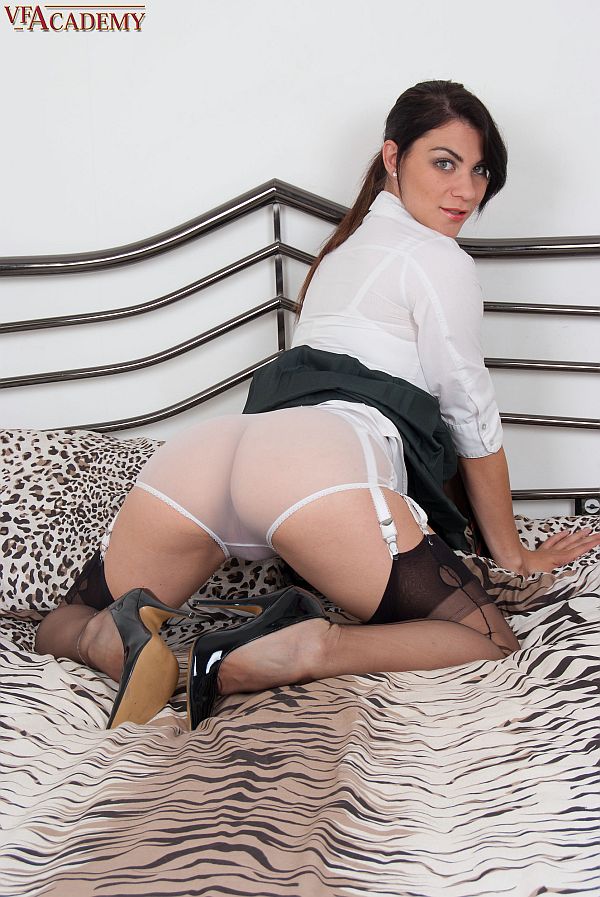 Roxy bumped into a group of guys on the way home from the academy and being a bit of a flirty girl she got talking to them. They told her she looked looked sexy in her uniform, and enjoying their attention she lifted her skirt to give them a good looked at her white suspenders attached to the top of her black, nylon stockings.
'They did ask to see my knickers,' she said, showing how she teased up her pleated skirt to give them a look at her white panties and the lips of her pussy just visible through the sheer nylon crotch.
Turning around she rubbed her hands over her sweet bum cheeks encased in the clingy nylon of her sexy knickers. Then she stood and lifted the front of her skirt for a close up view of her pantied pussy, all nicely framed by her garter belt and the tops of her fully-fashioned nylons.
Roxy's account of her public flashing in front of these guys had made her feel all horny, so she stripped out of her uniform and lay on the bed. She slipped her hand inside her white bra to play with her titties, and then pushed her other hand down the front nylon panties and began to finger her pussy
Roxy masturbated a while, then stripped off her bra to uncover her all natural breasts with their pink, pierced nipples. Then getting into a kneeling position, she hooked her thumbs into the elastic waist of her knickers and pulled them down, leaning forward on the bed to expose her ass and pussy to full view.
Roxy tilted her ass upwards and reached between her thighs to massage the lips of her cunt, her knickers stretched tight around the back of her legs in their sexy seamed stockings and shiny leather heels as she masturbated to orgasm.
Get our superb Vintage Flash newsletter each week - all the latest model info, updates, set preview pics and more!