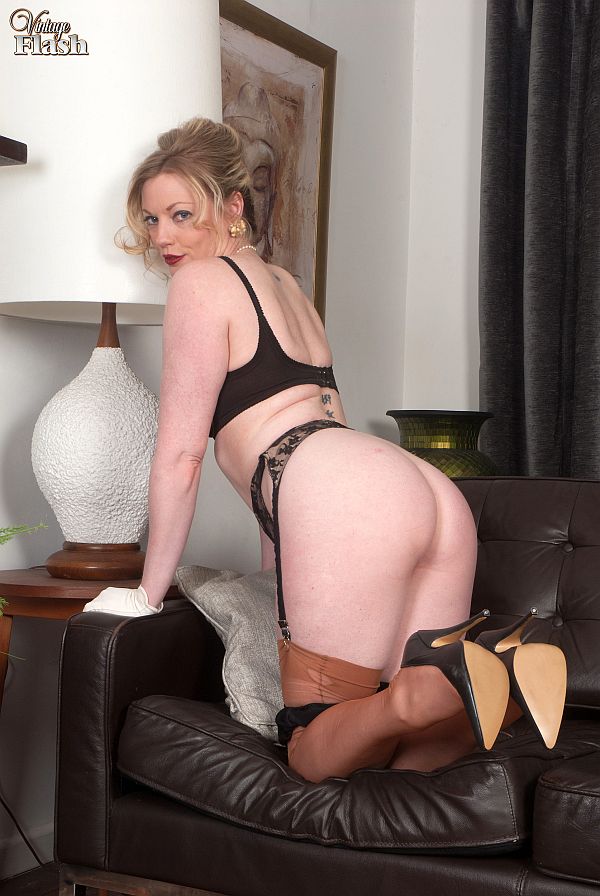 Staying in with Holly can be a lot more fun than going out, especially when she's agreed to having some saucy fun together…
Holly sat on the sofa and pulled her dress up to show the black suspenders attached to the tops of her chestnut brown, fully-fashioned nylons, then pressed her knees against her chest so her suspenders strained on the shiny welt of her nylons on the underside of her thighs.
'That's it, play with that cock for me, because the more you wank that cock, the more I'll take off!' Holly said encouragingly, as she stood and unzipped her dress, then slipped it over her shoulders to uncover her black lacy bra.
Wiggling her ass, she pulled her dress over her buttocks in shiny, black satin panties and allowed it to fall down her seamed stockinged legs to the floor. Then stepping out of the dress she gave her pantied ass another wiggle and turned to show she was wearing an almost sheer, garterbelt that matched the lace pattern of her bra.
Holly knelt on the sofa and hooked her thumbs into the elastic waist of her panties and teased them down, then leaning forward she mooned her arse, giving a rear view of the sexy seams of her tan nylon stockings as she kicked her heels up from behind.
Holly removed her panties and then slipped the straps of her black bra over her shoulders, teasing the cups of her bra over the mounds of her voluptuous, mature tits with their pink, erect nipples. 'Maybe you'd like me to push these breasts around your cock and shift them up and down your shaft,' Holly suggested, pressing and jiggling her boobs in her gloved hands and then reaching behind her back to unclasp her bra and discard it to one side.
'Oh, yes, I'd definitely like your cock in there and have you cum all over me,' Holly said, as she lay back with her stockinged legs open and playfully ran her gloved fingers over the the slit of her mature cunt. 'I love watching you play with that dick of yours, pulling and wanking it hard, knowing you are enjoying yourself.'
Join in with Holly as she strips down to her nylon stockings, lingerie and heels and then gets into lots of positions so you can wank over her fabulous body…
Get our superb Vintage Flash newsletter each week - all the latest model info, updates, set preview pics and more!