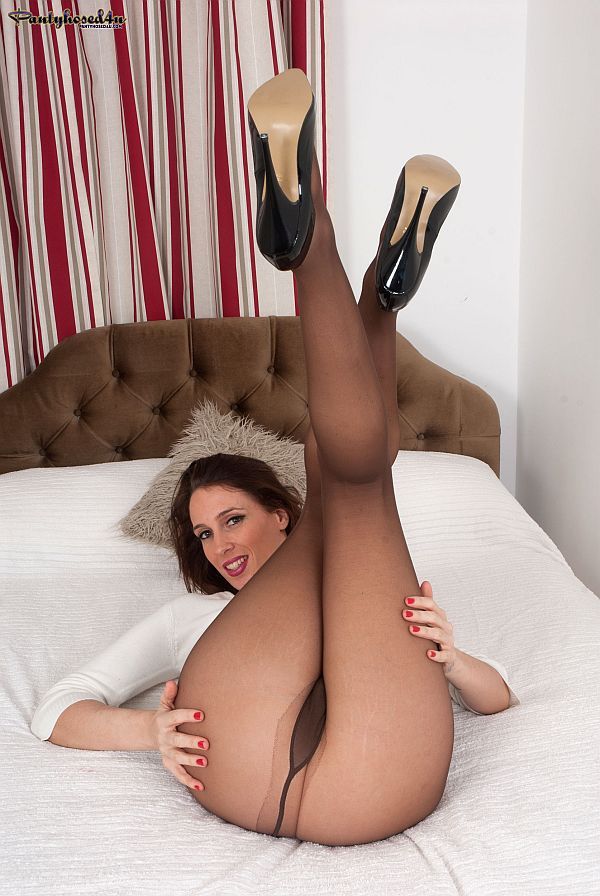 Lonesome Tammy needs a man to satisfy her needs as she is feeling very horny and hasn't had sex in a while, someone who enjoys pantyhose sex as much as she does…
'I know exactly what a man wants and I know how to give it to him, but I don't seem to be finding the right person and I wondered if you could help me?' Tammy says, looking incredibly sexy as she sits on the bed stroking her hands over her crossed legs in designer pantyhose and patent leather heels.
'Can I let you into a secret,' Tammy whispers, as she seductively brushes back her long dark hair and leans forward to speak confidentially. 'When I wear my pantyhose, I like to wank through them and finger my pussy until the crotch is dripping wet and I don't stop until I cum'
Tammy stands and turns to lift up the back of her tight skirt, sliding it all the way up her thighs to her bum sheathed in tight, clingy nylon. She climbs onto the bed and kneels, pulling her skirt up around her waist to reveal she is sans panties under her sheer nylon tights, then sits back and bounces her fabulous arse on her the back of her shiny, pointed heels.
'This is my favourite part, where I touch myself and feel how warm and juicy I am,' Tammy says, laying back with her legs open and rubbing her hand over the dark, opaque gusset patch that is stretched tightly over the area of her pussy. 'Now that's a wet, warm pussy,' she exclaims with delight, as her hand slides down the front of her tights and feels the sticky moistness of her pantyhosed cunt.
Stripping off her skirt and top, she removes her bra and kneels on the bed so that her nylon clad arse is in full view. She slides her hand under the crotch of her hose and it moves under the taut nylon screen of her pantyhose as she masturbates. Then pulling down her pantyhose so they are stretched around her legs, she inserts a cock-like dildo in her pussy and fucks it deep inside her hot, juicy cunt.
Get our superb Vintage Flash newsletter each week - all the latest model info, updates, set preview pics and more!