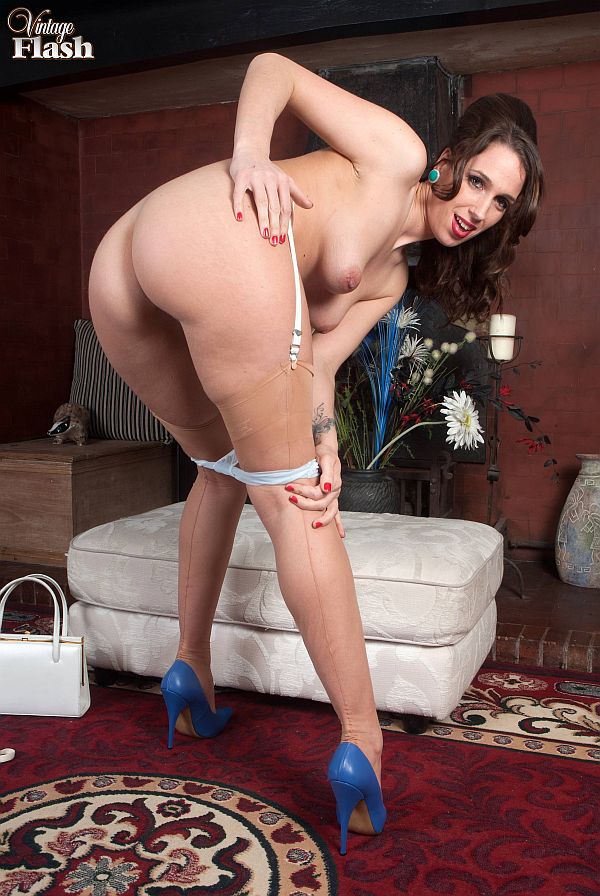 I turned up unexpectedly the other day at Tammy's house and found her all dressed up in her summer dress, stockings and heels, as she was just about to go out for afternoon tea with some of her lady friends.
Tammy is a real horny bitch most of the time and usually in the mood for some sexy stockings fun, so I complimented her on how beautiful she looked, hoping a bit of flattery would persuade her to spend some time with me.
Well, it must have worked because she sat down and knowing I would be interested in what she was under her dress she mentioned that she was wearing some genuine vintage, nude nylon stockings.
'I know when I had a pair of these on before and you really enjoyed watching me run my hands all over them didn't you?' She said, referring to the nude, almost invisible tone of her stockings as she seductively swept her hand up her leg and over the sheer, shiny surface of her nylons.
Tammy knelt on one leg and and pulled up the back of her dress, exposing her suspenders and the tops of her stockings, then stretched her other leg out sideways to the floor. Leaning over to touch her ankle, she dragged her fingers along the back of her stockings and up the seam, saying how much she loved the feel of her fully-fashioned nylons next to her skin.
Tammy stripped off her dress, making sure to bend over so I could get a view of her fabulous arse in encased in powder blue, sheer nylon panties and the long white suspenders attached to the shiny tops of her seamed nylon stockings. Then hooking her thumbs into the elastic waist of her panties, she tugged them over the cheeks of her ass and rolled them down her stockinged legs until the were stretched around her ankles.
Tammy then stripped off the panties and sitting with her legs open she stuffed them part way inside her pussy and massaged her fingers around her clitoris and the juicy lips of her cunt.
'Ooh, I've lost my panties, do you know where they are?' She asked jokingly, as she masturbated with her sheer nylon knickers hanging from the opening of her gaping cunt. 'Oh, yeah, forgot I hid them there,' she said in mock surprise and pulled them out.
Get our superb Vintage Flash newsletter each week - all the latest model info, updates, set preview pics and more!