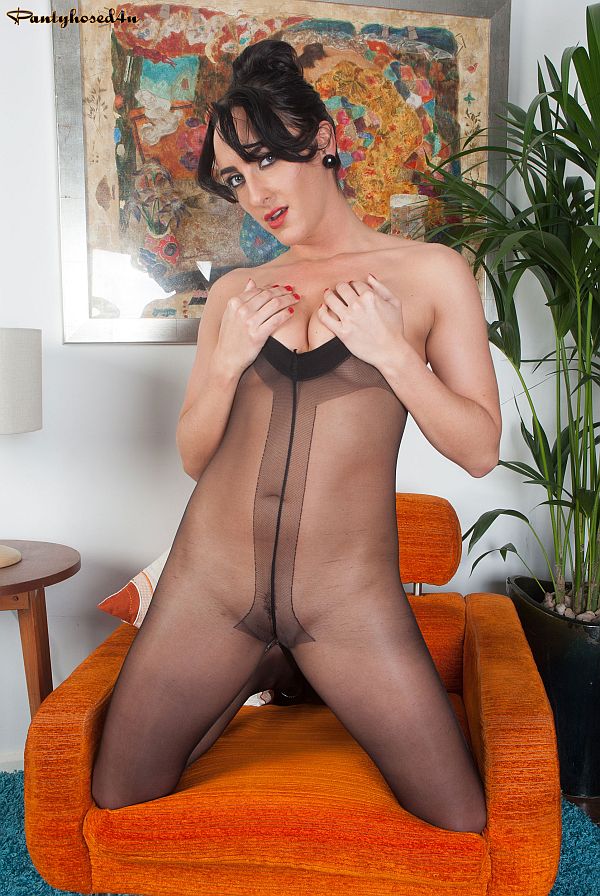 Leggy brunette Chloe prepares to strip out of her sheer blouse and tight fitting skirt and put on a very sexy pantyhose show for you in this video…
'I'm wearing your favorite black sheer to waist pantyhose,' Chloe says, lifting the front of her skirt to show her pussy behind the nylon crotch of her hose. 'So you need to sit back and get that big, hard cock in your hands and have a good, long wank to me.'
Chloe turns and standing with her legs apart she bends over, pulling up the back of her skirt for a view of her ass encased in sheer black nylon. Her hose shines with iridescent bands of light as she sways her ass and reaches down to her ankles to run her hands all the way up her slender pantyhosed legs.
Chloe strips out of her blouse and slides her skirt down her shapely pantyhosed legs, the removing her bra she pulls up the front of her pantyhose and stretches the sheer nylon over her naked tits and erect nipples. 'Are you enjoying that,' she asks, sitting with her legs open while she slowly grinds her hips and runs her finger up the thick black seam in the front of her nylon tights.
Kneeling on the chair she presents her pantyhosed ass and gripping the back of her hose, she pulls them up so the black backseam is pulled tight against the puckered ring sheathed in tight nylon. She then slides her finger between the groove of her buttocks and teases her cunt by pressing her fingers into the soft, moist lips trapped behind the taut nylon screen of her pantyhose crotch.
Chloe pokes her finger through rear of her pantyhose making a small hole, and then rips it open so the flesh of her buttocks and lips of her cunt emerge through the broken nylon in the seat of her tights.
She then lays back in the chair with her legs flung wide open and masturbates with her fingers slapping against the lips of her wet and juicy cunt. Her fingers slip and squelch inside her sopping wet pussy as the rhythm of her hand increases and she builds up to her pleasure until she finally reaches an intense climax.
Get our superb Vintage Flash newsletter each week - all the latest model info, updates, set preview pics and more!