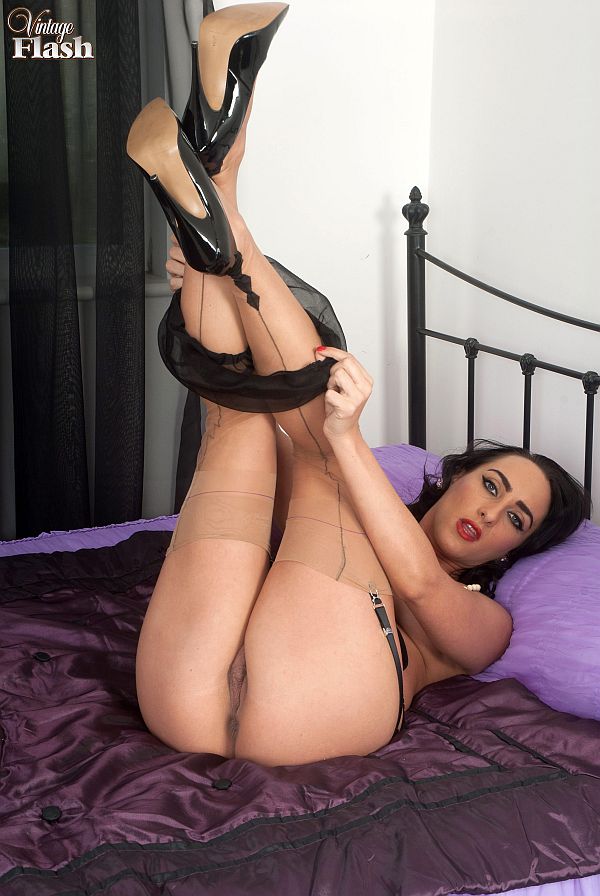 Chloe is ready to give you a good time having dressed up specially in a tight fitting dress under which she's wearing some very sexy nylon stockings and suspenders…
'I've got on some vintage American fully-fashioned stockings on for you and they are diamond heel as well, ' Chloe said, as she ran her hands over the sensual curves of her figure in a tight fitting summer dress and drew attention to her legs in patent leather heels.
Chloe pulled up her dress to show me she was wearing black suspenders attached to the tops of her tan nylons, then unzipping the dress she lowered the front to reveal she was wearing a very sexy, black and white polka dot bra.
'You love me dressing up like this for you, so let me show you what's hiding underneath,' Chole said, and turned around to lower her dress and show she was wearing black, sheer nylon panties that clung tight to the curves of her ass cheeks.
Chloe slipped her dress down her legs and looked back over her shoulder as she hooked her thumb under one of her black suspenders and let it snap back against the flesh of her thigh, saying, 'That's what really turns you on, isn't it.'
She sat on the edge of the bed and slipped off one shoe so it dangled from her toes and rubbed her fingers over the black diamond patterned heel, then drew them up the back of her leg, following the line of the seam up to the top of her stockings.
Chloe stripped off her bra, then knelt with her ass tilted up and slowly tugged her black panties over the mounds of her firm buttocks, leaving them stretched around the tops of her thighs. Then she lay on her back so I had a view of her pussy and ass as she slipped her panties off her seamed stockinged legs and over her shiny leather heels.
Sitting on the edge of the bed with her legs spread wide,  Chloe teased her clit and slipped her fingers up her juicy cunt, her hand increasing it's rhythm as she frigged herself off to a loud climax.
Get our superb Vintage Flash newsletter each week - all the latest model info, updates, set preview pics and more!