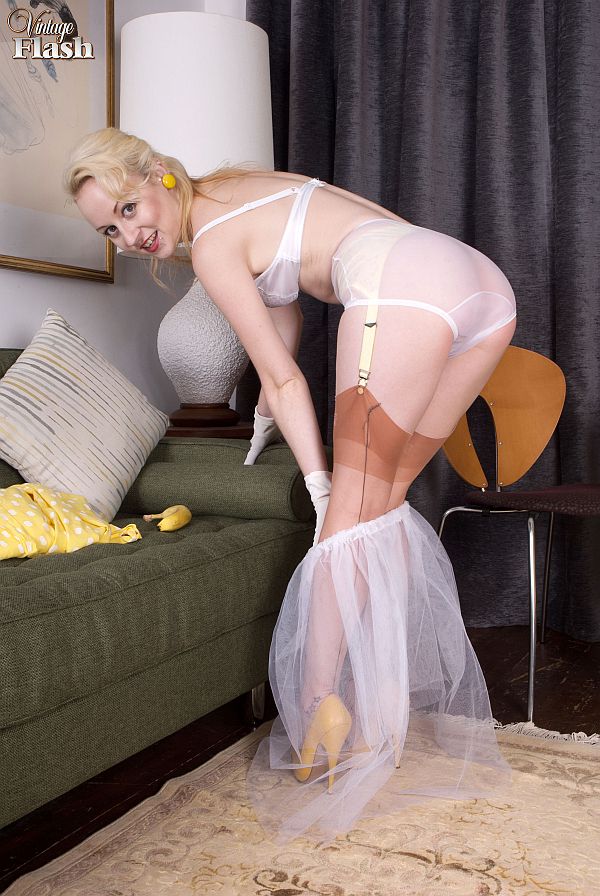 Kiana was having a smoothie as she sat at the breakfast table, looking very sexy in her yellow, polka dot dress, nylon stockings and matching yellow heels.
She pulled the dress up her thigh to admire her slender legs in their tan fully-fashioned nylon stockings, moving her gloved hands up from the ankles up to her thighs where and the yellow suspenders attached to the tops of her nylon with metal clasps. Then she uncrossed her legs and and lifted her dress even higher to reveal she was wearing sheer nylon panties, through which the pink flush of her pussy could be seen through the flimsy material.
Kiana sat and rubbed her pussy through the sheer nylon of her panties, then slipped her hand under the side leg of her knickers and massaged the pink lips of her cunt with gloved fingers.
Stripping off her dress revealed she was wearing a light fitting bra, which she removed to uncover her petite, all natural breasts. A sheer nylon petticoat hung from her waist, through which her panties, suspenders and stockings were visible through the sheer, gauzy material. She then turned around and leaned slightly forward as she pulled the petticoat down her seamed stockinged legs to her heels and stepped out of it.
Hooking her thumbs into the elastic waist and her knickers, she slowly peeled them over the sweet, soft cheeks of her bum, the nylon snagging on the metal clasps of her suspender belt as she lowered them down her legs.
Kiana sat on the sofa with her stockinged legs open wide, and taking a banana from the table she inserted it between the lubricated lips of her hot pussy. She fucked herself with the banana slipping and sliding, deep inside her cunt, thrusting her hips in rhythm as the object penetrated her cunt and brought her to climax.
Get our superb Vintage Flash newsletter each week - all the latest model info, updates, set preview pics and more!
NEW SERVICE FOR ALL SMART PHONE USING NYLONS LOVERS!
Text Nat here to get all her pics sent to your phone!
JUST TEXT 'WHITESEAMS' TO 69666
Phone fun day or night!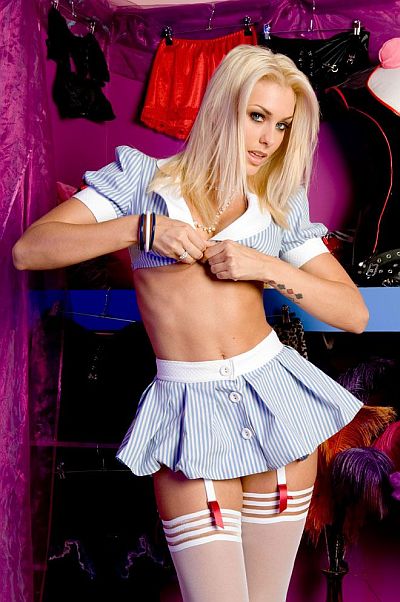 Terms & Conditions (Max 3x £1.50 per msg sent) help: 03333356970 PNP MEDIA - 2 STOP txt STOP
.......................................................................................................