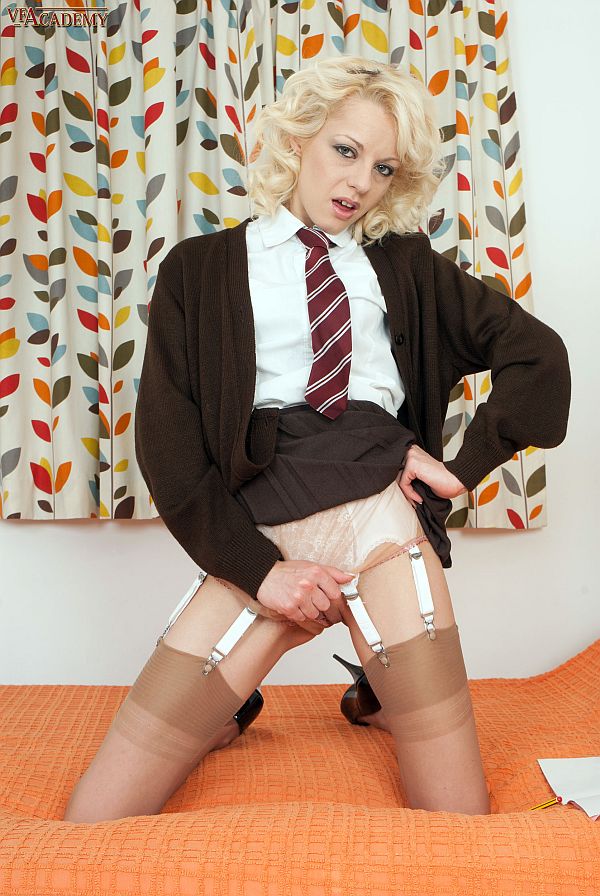 April was up in her bedroom doing her math homework when our randy janitor turned up to do the cleaning and found her willing to have some sexy fun…
Welcoming the distraction she began to flirt with him and teasingly lifted her skirt to show her suspenders attached to the tops of her tan, seamed nylon stockings.
Curious to see the janitor's cock, she suggested he take it out and give it a wank, saying,' If you play with it I might join you, but I'm going to tease you first…'
Giggling, she lay back on the bed so her pleated skirt fell around her waist, exposing the white suspenders of her garterbelt, and playfully swung her slender legs in their sexy seamed nylons and shiny heels.
'Would you like me to take these knickers off, for you,' April asked, spreading her legs to reveal she was wearing a beige-tan pair of sheer nylon panties through which the soft pink lips of her pussy could be seen. 'I'll only take them off if you promise not to tell anyone, because I'll get in big trouble.'
Biting her lip she stood holding her skirt around her hips and slowly tugged her panties down, leaving them stretched around her stockinged legs. 'Do you like what you see?' She asked, as she stood with her skirt hitched up, showing off her naked pussy framed by the webbing of her garterbelt attached to her tan nylon stockings.
Stripping off her panties, skirt and crisp white shirt, she reclined on the bed and spread the fleshy petals of her pouting pussy. Then dipping her finger into her moist, sticky hole she stirred it around and put it to her mouth to lick off her juices.
April then inserted two fingers between the lips of her hot little cunt and encouraged the janitor to wank his cock and cum with her as she masturbated to orgasm.
Get our superb Vintage Flash newsletter each week - all the latest model info, updates, set preview pics and more!