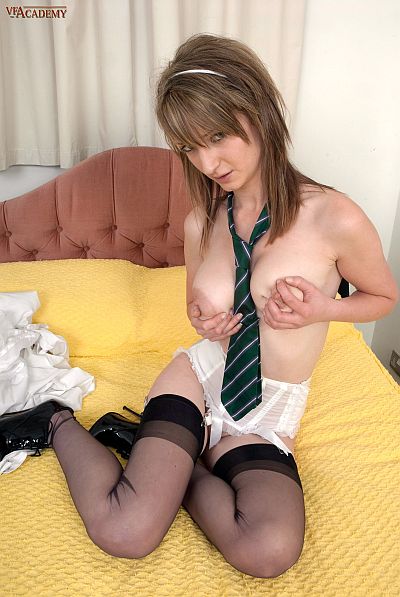 Kim is one of the new girls at VF Academy, but all she wants is to be a 'bad girl' like the others, so she can have fun, hang around with the boys and maybe get fucked.
Not being 'one of the group' yet, Kim is stuck indoors with no one to play with. So our friendly janitor took pity on her and went up to her room to keep her company.
Kim was pleased to have someone taking an interest in her, so she asked the janitor if he would like to touch her boobs, letting her own hands cup her breasts through the outside of her tight blouse and giving them a squeeze.
Knowing she is just as sexy as the other girls she sets out to prove it, so lifting up her pleated skirt she gives the janitor a perfect view of her sexy nylon panties, suspenders and stockings.
'I hope you think that I'm sexy, because I definitely feel it,' Kim said, holding up her skirt to show him everything.
'I like it when I rub my hand over my panties and feel how wet and sticky they are', she continued, smiling as she brushed her trimmed hairy bush through the sheer nylon fabric covering her teen pussy.
Naughty Kim then stripped out of her school uniform until she was left standing in her underwear; her knickers sighing with the swish of nylon as she pulled them down her stockinged legs.
Encouraging the janitor to get out his cock and give it a good wank, she got into lots of positions and let him watch as she masturbated her sweet pussy to orgasm.
Get our superb Vintage Flash newsletter each week - all the latest model info, updates, set preview pics and more!