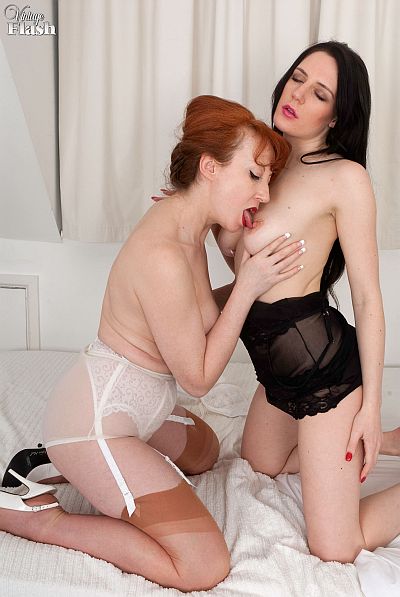 District nurse Red wasn't exactly sure what was wrong with Samantha, who she found lying in bed looking a bit down. Was her patient just pretending to be sick? It wasn't the first time our sexy nyloned nurse had been asked to call around to see Sam, who was always trying to get a day off work.
Giving her patient a hands on examination, our sexy mature nurse in nylons concluded there wasn't much wrong with Sam; especially when she noticed her saucy patient was wearing some sexy baby doll lingerie under the bed covers.
Sam's apparent illness quickly disappeared and recovering she began to seduce her busty nurse; her hands reaching out to unzip Red's tunic to pull it open and feel her tits through her lacy bullet bra.
Red couldn't resist the advances of her beautiful patient, and with Sam's assistance she stripped out of her tight nurses uniform, down to her full-cut nylon panties, stockings and suspenders.
Red then gave Sam a breast examination, squeezing and licking her patients titties with her wet tongue until the nipples were standing erect like stalks. Likewise, Sam took Red's voluptuous tits in her mouth and sucked on them like a greedy girl; leaving traces of smeared lipstick around the soft brown aureoles of her nurse's fleshy boobs.
Red tilted her ass upwards as she knelt on the bed, allowing Sam to pull her sheer nylon knickers over her firm round buttocks and down her stockinged legs. Then dribbling saliva onto Red's exposed anus, Sam flicked her wet tongue over the puckered ring and gave her asshole a thorough rim job.
Getting into a sixty-nine position the horny pair pleasured each other's gaping cunts with their lascivious tongues and probing fingers. Then they scissored their hot throbbing pussies together and writhed in ecstasy as they reached intense body shaking climaxes.
Get our superb Vintage Flash newsletter each week - all the latest model info, updates, set preview pics and more!