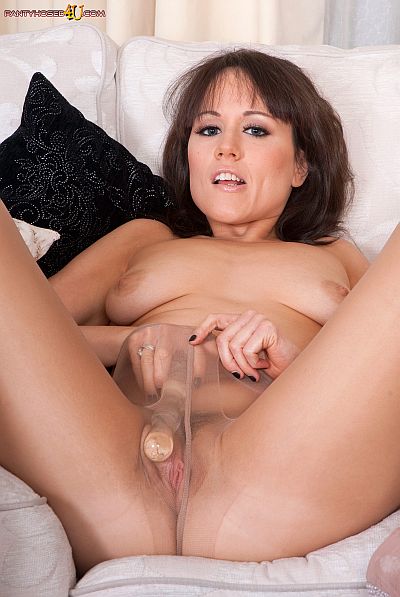 Lucy's glossy nude pantyhose had an incredible sheen that moved in bands of light over her thighs and ass as she turned to show off her fit legs and pert ass.
'Makes me feel very sexy wearing these tights and nothing else', Lucy said, pushing her hands down the rear of her sheer nylon pantyhose and slipping her fingers into the crevice of her wet pussy. 'Feels very naughty touching myself, knowing you can see everything through my nylon tights'
Sitting with her legs open she pushed her hands down the front panel of her hose, the trimmed bush of her pubic hair showing clearly through the sheer nylon crotch. Her fingers spread the lips of her pink pussy which glistened with slick pussy juices through the sheer nylon mesh as she masturbated.
Lucy then pulled her hose right up so the tight pantyhose crotch slipped between the parted lips of her pussy. As she stretched the waistband upwards, the front seam pressed hard against the throbbing button of her hot clitoris.
Needing to feel a cock inside her, Lucy ripped open a hole in the pantyhose crotch to get at her moist pussy and fucked herself with a glass dildo inserted deep in her sticky fuck hole.
Get our superb Vintage Flash newsletter each week - all the latest model info, updates, set preview pics and more!