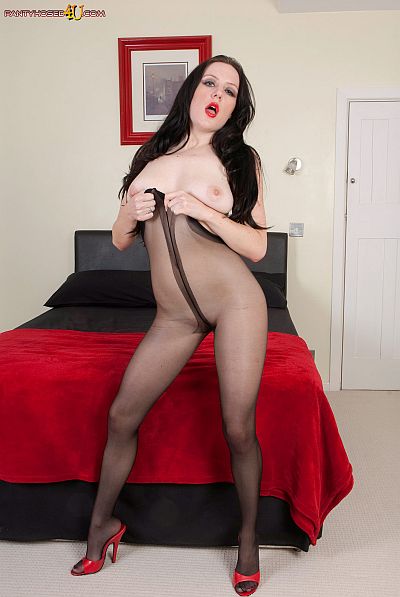 Samantha and I were getting ready to go out for the evening down the pub and I remarked that I thought her dress was a bit too short. Well, she wasn't too pleased with my objection, but having lots of guys leering and staring at Sam is not always what you want when going out for a quiet drink.
Sam's mode of dress was deliberate as she's a total flirt, loving all the attention she gets when guys look at her long legs in pantyhose and heels. It makes her feel naughty and she likes to tease with a quick flash of what's under her dress, pretending that she hasn't really noticed she is showing off her pussy.
Sam knows I like looking up her skirt as well, so standing over me with her dress pulled tight against her thighs, she teased me with views of her hot pussy encased behind sheer nylon.
Turning around to offer me a view of her ass, Sam's hand caressed the silky smooth nylon covering her bum cheeks, bending over so I could see the puckered ring of her anus through the sheer mesh of her tights.
'You see there's nothing for you to complain about, because you love it really', Sam said, sitting down on the edge of the bed and pulling the top of her dress open to expose the flesh of her fulsome pale breasts.
Sprawling on the bed in her sexy black pantyhose, she teased me to the point where I could have just ripped open her hose and fucked her hard right there and then. She must have read my mind because she ripped open the nylon crotch with her fingernails, exposing the hot pink flesh of her gaping cunt which looked so inviting.
'Looks like we're not going out now, because I want you to fuck me all night!' Sam said, spreading the lips of her juicy pussy and slotting her fingers up her tight lubricated fuck hole.
Being such a dirty girl, she then stuck her finger up her arse and I watched as she vigorously masturbated to a explosive climax in her torn and shredded tights.
Get our superb Vintage Flash newsletter each week - all the latest model info, updates, set preview pics and more!