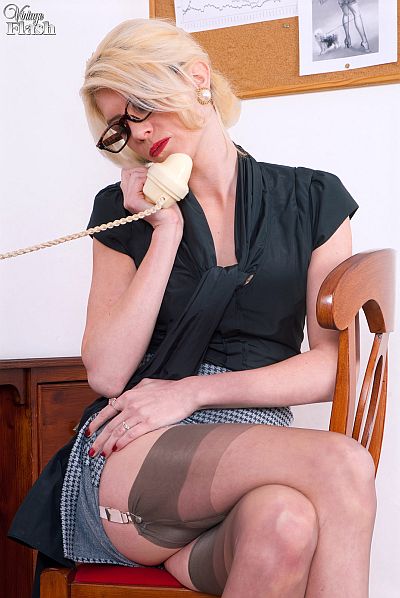 Secretary Bianca is in charge of taking calls from prospective clients at the 'Stocking-Tops Temping Agency', and always makes sure they receive a premium service which ensures total customer satisfaction!
The clients are very particular in their requirements, often requesting temping girls who wear fully-fashioned nylon stockings and heels, or foundation wear that is visible as an outline through their tight skirts and blouses.
Most clients just want an attractive girl in stockings about the office, or one they can take to business lunches or conference meetings at expensive hotels. But others want something a bit more, and Bianca has to negotiate a good fee for these extra special 'personal stocking services'.
The agency's stocking secretaries are often required to give hand jobs, which all the girls are willing to give, and is included in the standard fee. But for anything extra such as a blow job, then this is provided by 'Stocking-Tops Temping Agency's' special personal assistants, for which they charge a larger fee starting at £5.17/-6 pence.
While we were filming our 'documentary' about the agency's 'executive relief service', Bianca received a call from one client who wanted her to demonstrate 'what the girls do'. As the client was on the phone and unable to see Bianca, she gave a full description of what she was wearing and what she was doing.
Giving a running commentary as she stripped off for the client on the other end of the line, Bianca described every detail of her actions as she removed each garment or fondled her tits and ass.
Running her hands over her 'lovely fully-fashioned seamed nylon stockings', she held the phone close to her legs so the client could hear the static as her fingertips caressed the nylon.
She even described how her hands were down the front of her knickers as she masturbated, holding the phone close to her pussy so he could hear the liquid sounds as she fingered her moist cunt.
Focused on giving her client total satisfaction, Bianca complied with his request and frigged herself off, making sure he heard her reach orgasm as she climaxed loudly down the phone.
Would you like a 'Stocking Tops Secretary' to help you though your day? Let Bianca demonstrate…
See Bianca stripping off in this (154 image) photo set and watch her masturbating for her client in 'Stocking Tops Agency' at Vintage Flash.
Get our superb Vintage Flash newsletter each week - all the latest model info, updates, set preview pics and more!