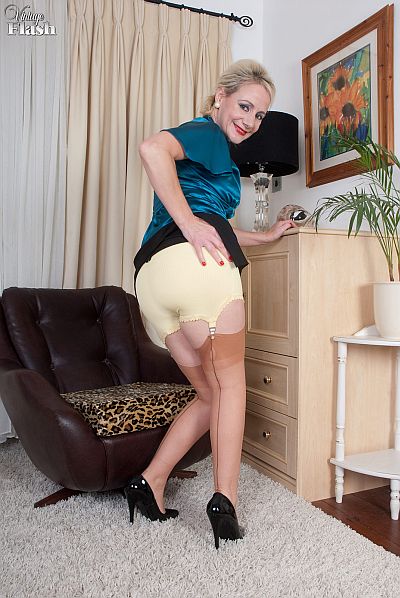 'I just love wearing vintage seamed stockings, there's something very sexy about them, don't you think?' Said naughty housewife Tiffany, as she sat with her legs up, letting me view the backseam running all the way up from her heels to the tops of her thighs.
'I bet you'd just love to come and feel them for yourself, wouldn't you?' She says, as her hands gently stroked her nyloned calves. 'Feel how soft, shiny, and sexy they are on my legs.'
Standing with her back turned, Tiffany looked over her shoulder and wiggled her ass as she raised her black skirt, revealing the tops of her tan nylons and the pretty primrose yellow panty-girdle she was wearing.
'See how it covers my bottom beautifully, encases it, gives it a really nice shape,' she said, feeling the curves of her arse through the cotton material of her pantygirdle.
Teasing me further, I watched as Tiffany seductively stripped off her top, skirt and removed her bra. Then sitting back in her chair she spread her stockinged legs and pulled the gusset of her pantygirdle to one side to show me her lovely mature cunt.
Pulling her cunt lips apart, Tiffany's fingers slipped into her moist pussy hole then removed them so she could suck off her own juices, before she concluded by masturbating in her pantygirdle to reach a satisfying climax.
See Tiffany T masturbating in her pantygirdle and nylons in this (165 image) photo set and 15 minute video – 'Pantygirdle Poser' at Vintage Flash.
Get our superb Vintage Flash newsletter each week - all the latest model info, updates, set preview pics and more!