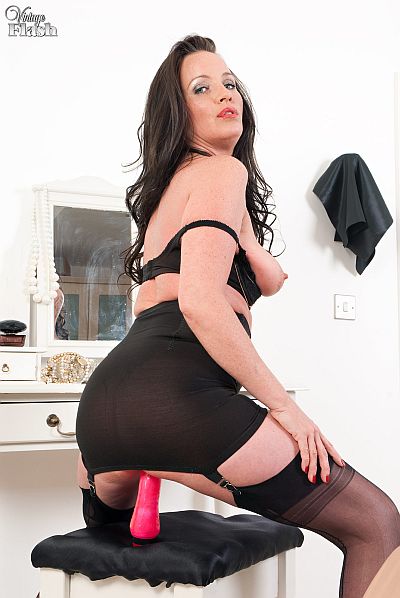 Marlyn is just finishing getting herself ready to go out for lunch, having put on her girdle, black nylons and a vintage bullet bra under her classy sweater and pencil skirt.
Having finished applying her red lipstick, Marlyn's look is complete and wearing such a sexy outfit has put this delectable MILF in the mood for sex.
Running her hand down her leg to her stockinged heels, Marlyn asks, 'Do you think we've got time for a little play before we go? Because, Darling I'm ever so horny!'
Marlyn pulls at the hem of her skirt and lifts it just so you can see the tops of her nylons. 'It's putting on these fully-fashioned, seamed nylon stockings, they make me feel so sexy'.
Marlyn moves to cross her stockinged legs and the sound of nylon swishes as she puts them together. 'I've got little surprise for you today, too…' She announces with a seductive glance of promise in her eyes. 'You'll see in a bit.'
Yes, Marlyn is girdled for pleasure and she bends over in her seamed nylons and heels, making sure you derive full satisfaction as she teases and masturbates in 'Marlyn – Girdle Fetish Frolic!'
Get our superb Vintage Flash newsletter each week - all the latest model info, updates, set preview pics and more!