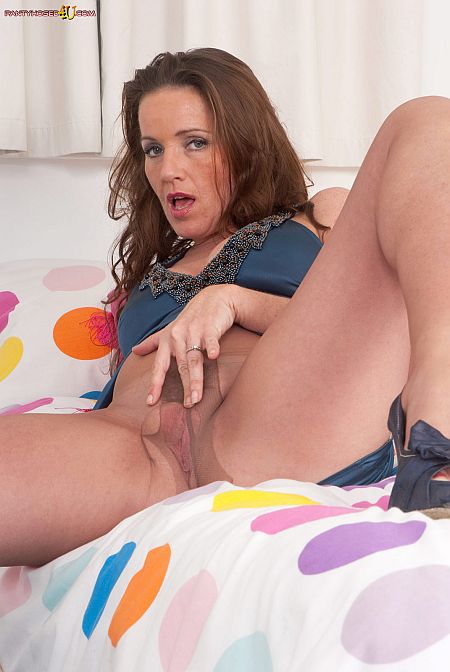 Whenever Marlyn goes out for the evening she makes sure to wear some sexy heels, a short dress and some sheer crotch pantyhose that just maybe will reveal, at the right moment, her hairy pussy!
When she hits the dance floor her dress will ride up as she moves, revealing just enough of a flash of her pantyhosed pussy, that anyone looking in the right direction would think, 'Did I just see what I thought I saw?'
Well of course they did, but check out this video of Marlyn, who puts on a sexy pantyhose show for all her many fans, and lets them see a whole lot more besides.
'Look, no panties!' Marlyn says, as she opens her legs to prove her point, and show off her hot mature pussy all nice and snug behind the sheer fabric of her pantyhose.
Marlyn has a lot of fun putting her hands down her hose and stretching the nylon with her fingers, massaging her snatch though the nylon screen, and pulling up the waistband until the crotch pulls tight against her hairy cunt!
After a prolonged masturbation though the front of her pantyhose, our hot hosed lady rips the crotch of her hose open to get at her juicy cunt, and with fingers knuckle deep in her hairy twat, she finishes off with an intense orgasm.
See MILF Marlyn masturbating in her ripped pantyhose in this (167 image) photo set and video – 'Me, My Dress And Pantyhose'.
Get our superb Vintage Flash newsletter each week - all the latest model info, updates, set preview pics and more!