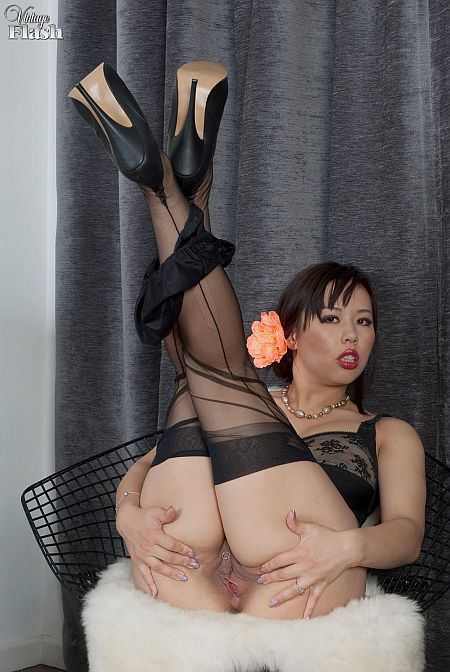 You have been summoned by your oriental mistress Tigerr, who gives you explicit instruction to masturbate while she shows your her sexy stockinged legs in heels in her video at Vintage Flash.
Tigerr stands before you, dressed to thrill in her sexy, sheer dress, through which you can see her taut suspender straps stretching down to the tops of her seamed nylon stockings.
'Firstly, I want you to rub your hands over your cock, through the outside of your trousers,' Tigerr says Imperiously, bending slightly to offer a cock stiffening view of her lovely rounded ass, suspenders and stockings through her diaphanous dress.
'Then I want you to unzip your fly and keep watching me as you stroke your cock, nice and slowly,' she continues, pulling her panties over the pale cheeks of her ass, and sliding them down her seamed stockinged legs.
Tigerr then sits in a chair, and lifting her shapely legs so the heels of her stilettos point upwards, she runs her hands up and down the back of her seamed, wrinkled stockings.
'That's it, play with your nice hard cock for me,' she says encouragingly, as she spreads her legs in a 'v' shape to display her delicious oriental pussy and ass.
'Now keep stroking that cock harder,' Tigerr instructs, as she pulls her thighs to her chest and opens her legs further, prising open the glistening lips of her pussy so you can look at her pink love slit oozing with her juices.
'Now, I want you to watch me as I play with myself, then when I tell you, I want you to cum as well!'
View Tigerr Benson masturbating in stockings and suspenders in this (184 image) photo set, and see her give masturbation encouragement in her video – 'Deal Or No Deal'.
Get our superb Vintage Flash newsletter each week - all the latest model info, updates, set preview pics and more!