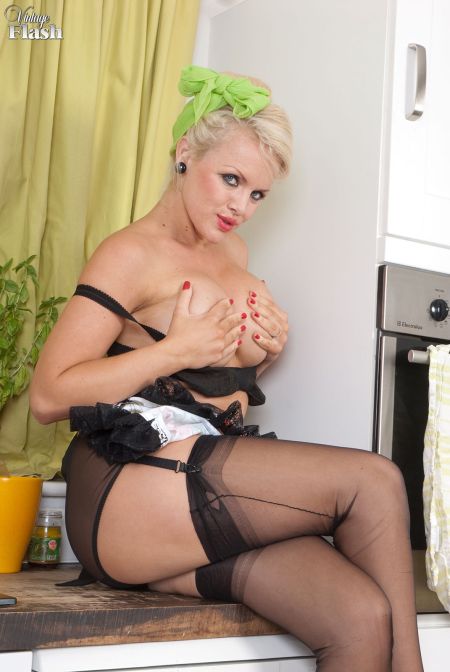 Horny Housewife Frankie masturbates in black seamed nylon stockings, suspenders and heels in her video at Vintage Flash.
It was a hot summer day, too hot in fact to do any housework fully clothed, so housewife Frankie decided to take off her dress and do her work just in her stockings, suspenders, panties and heels.
'I do everything in my nylons', Frankie said, as she squatted down in her heels with legs open to give a view of her moist pantie crotch. 'Scrubbing the floors, cleaning the windows, shopping, cooking… Fucking!' she laughed.
'I like to run my hands inside of my nylons,' she said, pushing her fingers into the space between her nylon stockings tops and the soft flesh of her thighs, 'it really turns me on.'
After a hard day scrubbing her kitchen floor on her hands and knees in just her lingerie, Frankie was decidedly looking forward to playing with her tits, pussy and ass.
'Oh, yeah, my pussy is so nice and wet,' she confirmed, hand down the front of her knickers. Slipping her fingers up her lubricated pussy hole she made herself even wetter, then licked the juices off her finger tips.
Frankie then removed her panties, and climbing onto the kitchen top she spread her stockinged legs. Working her fingers up her sopping wet cunt she masturbated vigorously and until she climaxed hard and loud.
See housewife Frankie masturbate to orgasm in black nylon stockings and suspenders in this (146 image) photo set and video – 'Sexy Lil' Scrubber'.
Get our superb Vintage Flash newsletter each week - all the latest model info, updates, set preview pics and more!