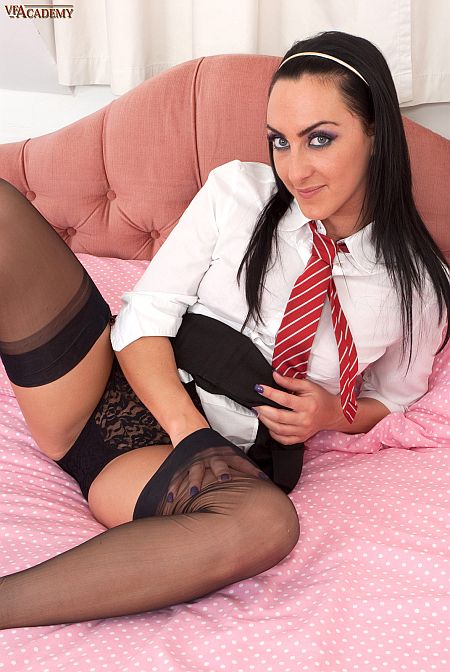 Waiting in her room for lunch break, Chole was feeling horny in her stockings and suspenders, so she decided to keep herself amused with a bit of masturbation.
She'd been sent to her room for the remainder of the morning, when one of the teachers discovered Chloe hiding her vibrator in the desk. The teacher had confiscated her sex toy, but our horny miss soon found her hairbrush and looked forward to using it for some self-pleasure.
Stripping out of her tight blouse, Chloe played with her erect nipples and stroked her seamed stockinged legs, pushing her hand down to tops of her nylons to feel the flesh of her soft thighs.
Laying flat on the bed, she looked over her shoulder and tugged at her black lacy knickers until they were just stretched below the cheeks of her buttocks. Then she reached round and massaged her pussy, already moist with excitement.
Kneeling on the bed with her naked ass in the air, Chloe spread her pussy lips and used her fingers to flick her bean. Her fingers made wet sticky sounds as she diddled her pussy and made the juices flow out of her hot, pink love hole.
Grabbing her hairbrush she inserted the handle up her tight love slot, and pushed it all the way up. Chloe vigorously rubbed the tip of her throbbing clitoris with one hand, and working the hands of the brush up her twat, she reached a long and satisfying climax.
Get our superb Vintage Flash newsletter each week - all the latest model info, updates, set preview pics and more!