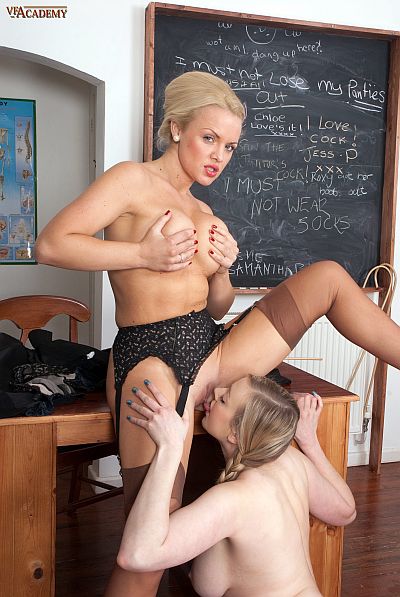 Ms Frankie has called Sapphire in for breaking the academy's uniform code – socks instead of stockings – and is going to teach her a lesson.
All the girls are expected to wear nylon stockings during class, so they can learn to appreciate their silky feel and the look of them on their legs.
Ms Frankie opens the split in her skirt to show Sapphire just how sexy her legs look in stockings; then gets her pupil to feel her nyloned stockinged legs in order to better understand their sex appeal.
Devising a punishment for her errant pupil, Ms Frankie gets Sapphire to lie over her knee and give her pantied ass a spanking with her hand.
Ms Frankie has other things in mind for this wayward girl, and making Sapphire remove one of her heels, she gets her student to lick and worship her stockinged feet and toes.
Sapphire is told to undress and remove her bra so Ms Frankie can rub her stockinged feet against her naked breasts.
Then she is made to feel Ms Frankie's round ass in black lace panties, and helps to remove her teacher's knickers as they snag on her suspender clasps,  tugging them gently down her legs to the floor.
Getting her head down between Ms Frankie's stockinged thighs, Sapphire then sticks her tongue up her teacher's hot creamy cunt and brings her to orgasm.
Get our superb Vintage Flash newsletter each week - all the latest model info, updates, set preview pics and more!