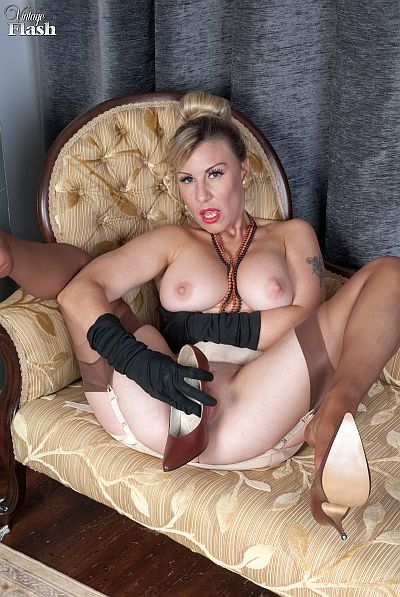 Along with a love of vintage nylon stockings and lingerie, Saffy loves her high heeled shoes. They excite and turn her on so much, she uses her heels to masturbate with to orgasm in her latest video.
Saffy likes the sound her heels make on a hard floor, the look they give to her shapely legs and how horny they make her feel.
She demonstrates the effect her heels have on her libido as she parades around in them, and then gives a close up view as she slips them off and on her stockinged feet.
Sitting on the chaise lounge with her dress pulled up over her thighs to reveal the tops of her stockings, Saffy removes one of her shoes and puts it to her mouth to lick and suck on the stiletto heel.
'I do like teasing you guys with my stockings tops, girdle and bullet bra, because I know you can see them through this sheer dress,' Saffy remarks, drawing our attention to how see-through the patterned dress she is wearing, which leaves nothing to the imagination.
'Feeling the cold metal of my stiletto shoe on my clit, that really turns me on,' Saffy says, placing the tip of her heel against the hot button of her throbbing clitoris.
With her legs open and pulled back so the suspenders of her girdle pull tightly around her thighs to the tops of her stockings, Saffy inserts her heel into her pussy to masturbate.
'Such a dirty slut, aren't I, fucking my cunt with the heel of my shoe', she says as she stirs the tip of her heel around the inside of the lips of her juicy fuck hole, making her cunt nice and wet and ready.
Pushing the toe her shoe inside her gaping cunt, Saffy thrusts it as far as it will go and rubs the pointed toe tip hard against her clit which finally sends her over the edge into an intense climax.
See Saffy masturbating in her girdle and nylon stockings in this (159 image) photo set and video- 'Going In Heels Deep!'
Get our superb Vintage Flash newsletter each week - all the latest model info, updates, set preview pics and more!