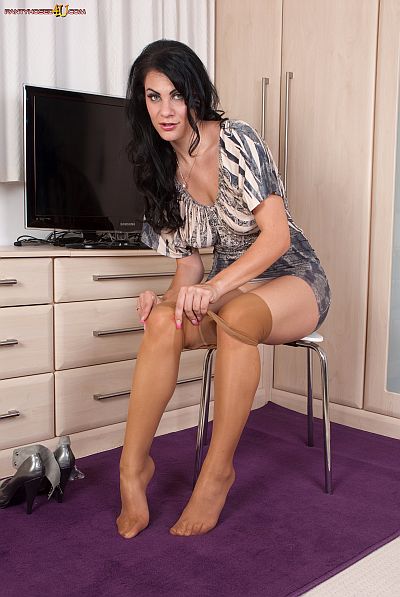 Roxy was getting ready to go out on a hot date, so she decides to wear some sexy bikini patterned pantyhose in the hope she will impress the guy and end up getting fucked.
Watch as Roxy slips into her sheer nylon pantyhose, then pulls them all the way up until they are tight against her legs, hips and naked pussy.
'Do you think he'll like these?' Roxy asks, turning to look at her pantyhosed legs and ass in the mirror. 'I'm sure he'll find them sexy.'
Roxy continues to admire her shapely figure in shiny pantyhose, smoothing her hands over her pert buttocks encased in clingy nylon, and pulling the crotch up tight against the lips of her moist pussy.
Excited by the erotic sensation of her thrilling pantyhose, Roxy decides she needs to give herself a wank and reaches for her trusty dildo.
Shredding the gusset of her pantyhose with her long painted fingernails to get at her juicy pussy, Roxy spreads her pink pussy lips with two fingers and frigs her sticky fuck hole.
Then sitting on the edge of a stool with her legs apart, she slides the buzzing vibrator up her gaping cunt and makes herself cum.
Get our superb Vintage Flash newsletter each week - all the latest model info, updates, set preview pics and more!