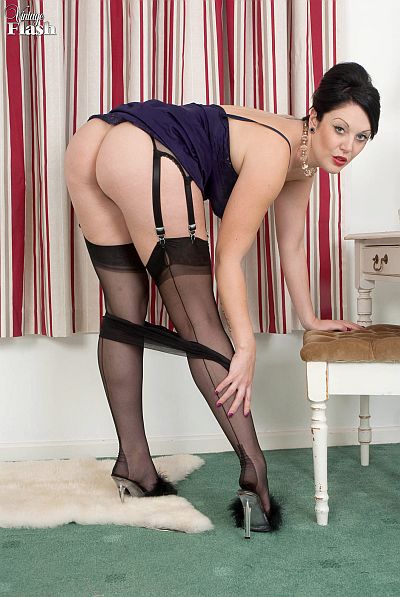 Sexy Shay invites you to see what a lady dressed in nylon slip, full-fashioned stockings and heels, does in her boudoir in her latest video at Vintage Flash.
Sitting at her dresser in a purple nylon slip, sheer black nylon stockings and panties, Shay is feeling aroused and in the mood for some raunchy sex.
'I'm wearing my sexy, lace trimmed nylon slip, which feels so smooth,' Shay adds, as she moves her hands over the soft, slinky material that clings to her curves.
'I want you to run your hands all over my nylon slip, then down to my stockinged legs', she says, moving her hands slowly over her thighs and pulling back the hem of the slip to reveal her suspenders arrayed around her stocking tops.
Standing to bend over and show off her ass in sheer black panties, Shay's hand slides up and down the seam of her sexy nylon stockings, from reinforced heel to the black welt of her suspendered nylons.
Sitting on the edge of her dresser with legs apart, Shay draws attention to her pantied pussy, and invites you to lick her cunt through the damp crotch of her nylon knickers.
Shay rubs her perfumed pussy through the tight nylon mesh of her pantie gusset, before tugging them down over the bumps of her suspenders and pulling her arse cheeks apart to expose her naked cunt.
Shay then removes her panties and licks her juices off the nylon gusset, savouring the sweetness of her own pussy scent.
Then sitting with her legs up so her naked pussy and ass in full view, she gives her lubricated pussy a good fucking with her jello-vibe and reaches and intense climax.
Get our superb Vintage Flash newsletter each week - all the latest model info, updates, set preview pics and more!