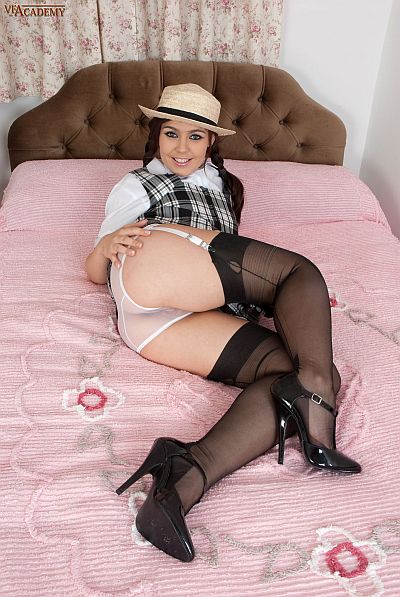 After hearing some of the other academy girls talking about their sexual exploits with their boyfriends, Kacie wants to get shagged as well!
Yearning for the experience as she lies on the bed alone in her room, Kacie imagines what it must be like to have a cock inside her, and all the positions she would like to try out.
Needing to  to frig herself off right there and then, Kacie begins to rub her hand over the crotch of her sheer nylon knickers through which the soft pink flesh of her juicy pussy is clearly visible.
Kacie spreads her legs apart, causing the webbing of her multi-strap suspender belt to tug at the tops of her black nylon stockings. Then her hand slides down the front of her nylon panties and she works her fingers deep inside her sticky pussy hole.
Kneeling on the bed to give us a rear view, Kacie teases her sexy panties over her ass and thighs, then lies on one side to slip them down her stockinged legs and leave then bunched around her ankles and heels.
Knickers down, Kacie masturbates in several positions with one hand rubbing her clitoris and several fingers frigging her hot cunt to get herself off!
See Kacie masturbating in her panties, stockings and suspenders in this (187 image) photo set and 15 minute video – 'I Wanna Be Shagged' at VF Academy
Get our superb Vintage Flash newsletter each week - all the latest model info, updates, set preview pics and more!