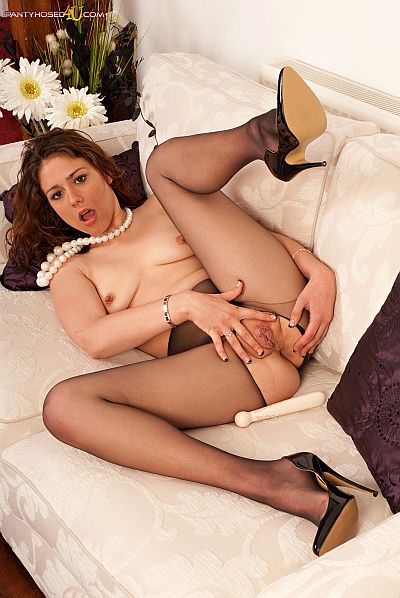 VIEW THE TRAILER OF SOPHIE MASTURBATING IN HER PANTYHOSE
Sophie promised to show me the outfit she had worn at a college ball she had attended last year. 'I think it will look great in one of your videos, as it's very sexy and slinky, with a high cut slit in the side where I can show my thigh'.
She was booked in to do some modeling for us a few weeks ago and we shot some videos of Sophie in various clothes and stockings for our sites.
Then we were about to do a pantyhose video, and as promised Sophie had brought her party dress to use in this scene, and went upstairs to get changed.
'OK, is that video camera rolling', she shouted when she was about to descend the stairs. 'I want you to get this on tape. Ready?'
Sophie came down the stairs and made her entrance wearing her black dress with a see-through top, black pantyhose and high heels.
Posing at the bottom of the staircase Sophie raised her knee and exposed one gorgeous pantyhosed leg through the slit of the material. You could see why all the guys wanted to take her home after seeing her in that dress.
She had caused quite a reaction at the ball, and wondered if she had been a bit under-dressed for the occasion. Maybe, I thought. You certainly could see Sophie's tits right through her sheer black nylon frock, and that sexy slit in the side offered provocative views of her shapely legs in black nylon pantyhose.
Settling on the sofa, Sophie lifted her legs back and massaged her pantyhose crotch with one hand, rubbing the front panel seam against her hard clit and the moist opening of her labia.
'These pantyhose make me feel so, sexy', she said, moving her hands sensually over her pantyhose crotch and nyloned legs.
'You know what would make me really, horny… is knowing you've got your cock in your hands.'
Watch Sophie masturbate in ripped pantyhose, demanding you play with your hard cock and spurt over her teenage cunt as she cums, in this week's movie at Pantyhosed4u.com.
Get our superb Vintage Flash newsletter each week - all the latest model info, updates, set preview pics and more!