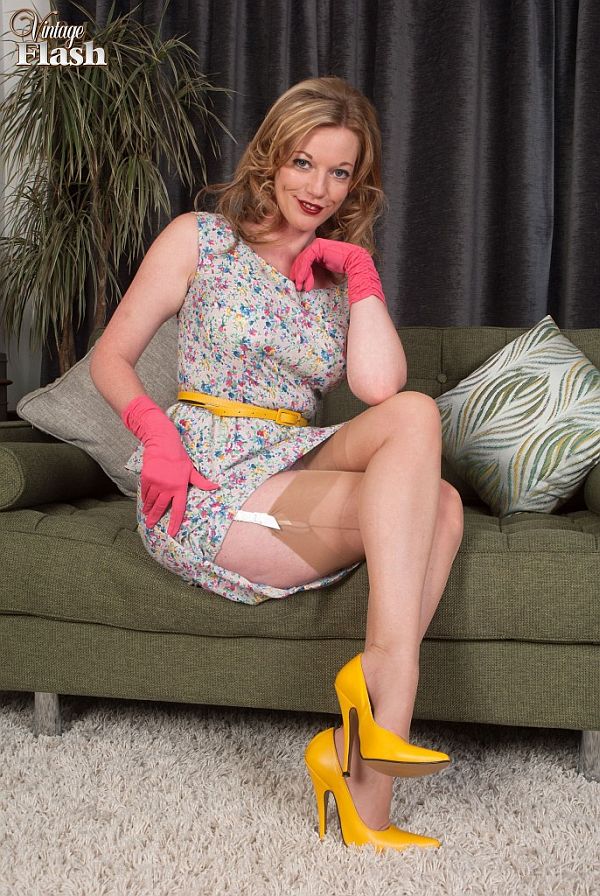 Holly told me she was wearing some sheer nylon panties and that if I wanted to get my hands on them, then I'd better impress her by getting out my cock start wanking.
Being something of a cock tease she knelt on the sofa and lifted her dress and inviting me to rub my cock over her pantied ass, then push it against her puckered ring through the tight nylon and slip it under the crotch between her thighs.
Stripping out of her dress revealed she was wearing a vintage bullet bra, white sheer nylon panties, tan fully-fashioned nylons and white garterbelt. Slipping the straps of the bra over her shoulders, she pulled it away from her breasts and held it up close so the cups were almost covering my face, saying how much she'd like to wrap the bra around my cock and wank it off!
'I do love watching you play with your cock, would you like to put it in between my breasts? ' Holly offered, pushing and lifting the mounds of her soft, fleshy tits so they squeezed together. 'You could put it right in the center of my cleavage and I'd move them up and down, over your smooth, hard erection'.
Holly stood and turned as she hooked her thumbs into her nylon panties and teased them over her buttocks. Bending over she pulled them down her stockinged legs, leaving her panties wrapped around her knees like a whore ready to receive a quick fuck from behind. She then prised her buttocks apart for a view of her fabulous round ass and luscious cunt already gaping with arousal.
Sitting back on the sofa she pulled her panties right down until they were stretched around her ankles, then removed them completely and held them up to her nose to inhaled the musky scent of her own cunt. Then spreading her stockinged legs she pulled apart the lips of her labia, which was glistening hot and pink with her juices as she held it open.
'Cum and release your hot sticky spunk all over me,' she said with an urgency in her voice, as she vigorously masturbated with her fingers pressing down hard and circling the hard nub of her swollen clit. 'I want you to grab hold of your cock and pull and tug on it until you are ready to burst, then shoot your load as I reach my climax!'
Get our superb Vintage Flash newsletter each week - all the latest model info, updates, set preview pics and more!