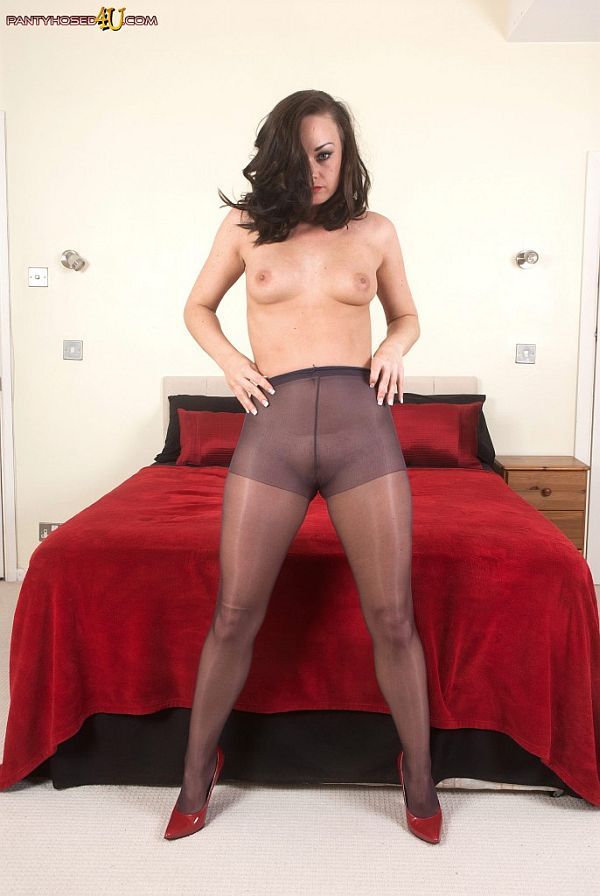 'I thought I'd put on my sexy nylon pantyhose, no knickers, and then ask you here so you can fulfill my fantasies' Kelly said, as she lay on the bed caressing her legs in black nylon pantyhose and red heels. Uncrossing her legs so I could see she was indeed wearing no panties, she rubbed her crotch saying, 'I know you love it when they are pulled nice and tight around my pussy.'
She stood to give me a better look at her shapely figure in the tight, black dress she was wearing, which had some sexy tassels hanging from the sides, her legs looking fabulous in their shiny, sheer pantyhose and shiny, red heels.
'I want to give you the best view possible of my tight, little pussy though my glossy pantyhose,' she said, now laying back on the bed with her legs wide open and displaying her naked pussy through her sheer nylon tights.
'I've been lying here thinking about how good my pantyhose feel when you're licking me through them,' she said, smoothing her hands over her legs in their shiny black nylon tights, 'especially when you to lick my arsehole through my nylon pantyhose.'
Ripping a small hole in the front of her hose she exposed the fleshy lips of her juicy cunt, then kneeling she tore open a wider hole at the rear and showed me the puckered ring of her arsehole where she wanted me to put my tongue and make her cum.
Kelly touched her bumhole through the hole in her ripped tights and gasped with the pleasure it gave her as she poked and masturbated it with her fingers, which caused her to have an orgasm.
Get our superb Vintage Flash newsletter each week - all the latest model info, updates, set preview pics and more!