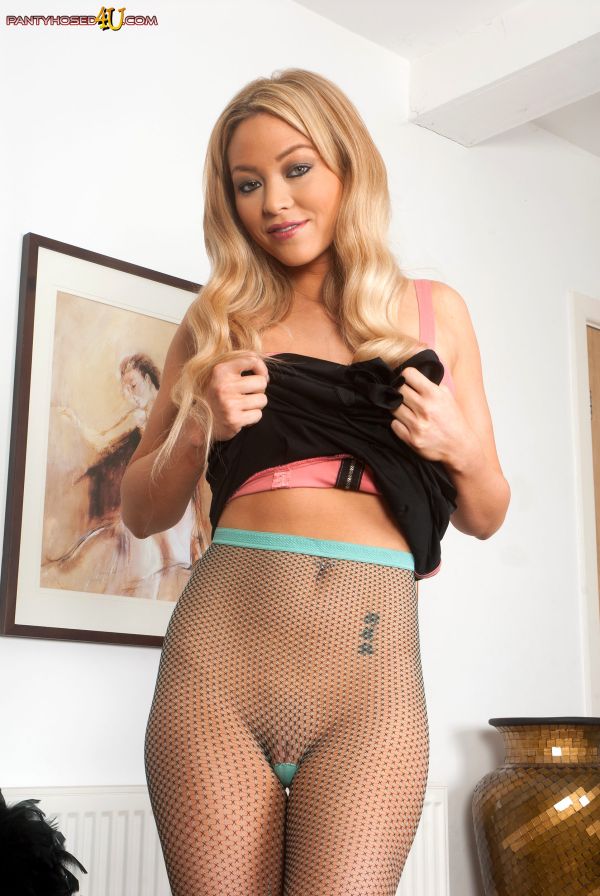 'Don't you just love them?' Natalia said, regarding the very fancy designer fishnet pantyhose threaded in turquoise and black, she was wearing as she sat on the chaise lounge. 'I'd love it even more if you were to rub your big hands slowly up and down my slim legs for me.'
Natalia dragged her fingers slowly up her legs, the fingernails softly catching on the woven mesh of her net hose. 'Aren't they super sexy, that's why I'm wearing these, especially for you,' she said, her hands gently caressing the outline of her slender legs encased in their fine net tights.
'I'd love you to come over here and rip them off and stick your cock in, but you can't, can you?' She remarked, opening her legs to reveal the thick, opaque turquoise gusset patch that covered her pussy. Smiling with sexual pleasure, she pulled her pantyhose tight around her crotch and rubbed her hand over the opaque patch, then pulled the gusset patch to one side, causing the mesh to wrap tightly around her naked pussy.
Laying on her side she offered a view of her splendid arse sheathed in her sexy layer of designer fishnet hose, then knelt and moved her sexy ass from side to side, giving a view of the puckered ass-ring behind the dense criss-crossed fabric of her pantyhose.
Pushing her hands down the rear of her hose she squeezed the flesh of her butt cheeks, her fingers playing with the puckered ring of her ass and the slit of her cunt through the tight nylon mesh that encased them.
Now laying back with her legs open, she slipped her hand down the front of her tights and spread the lips of her juicy wet cunt to show the erect nub of her clitoris poking hot and red through the fishnet crotch. With her hand moving rapidly behind the front of her tights she rubbed her clitoris hard and bucked her hips as she orgasmed in her sexy net pantyhose.
Get our superb Vintage Flash newsletter each week - all the latest model info, updates, set preview pics and more!