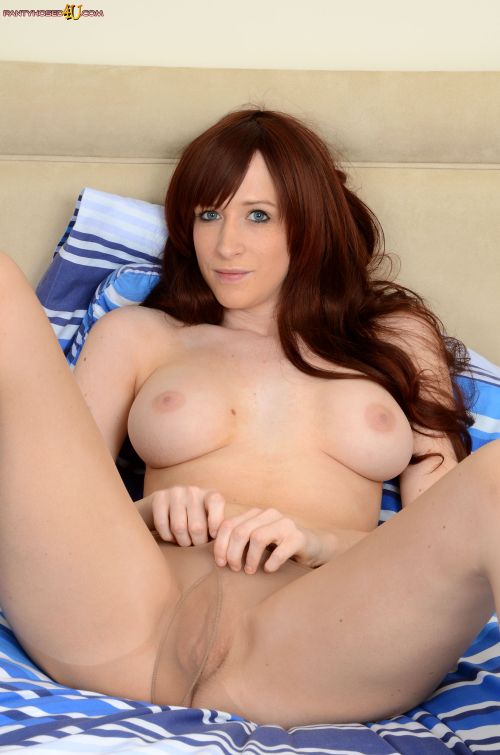 'Have you come to watch me in my sexy pantyhose,' asks redhead teen Charlotte as she reclines on the bed stroking her legs and flexing her nyloned toes. 'I love pantyhose and sometimes like to play with myself when I'm wearing them, it's so hot.'
Charlotte lays back and lifts her legs upwards, brushing her legs and her nyloned feet together and showing that she is not wearing panties through the sheer nylon crotch of her pantyhose.
'I bet you like to wank off over women in sexy pantyhose, don't you,' she asks, slipping the straps of her dress over her shoulder as he begins to undress. 'Well if you are a good boy I might let you wank over me.'
Charlotte strips out of her dress to get more comfortable, then kneels to give a close up view of her ass and pantyhose crotch through which the lips her naked pussy can be seen. Pushing her hands down the front of her hose, she reaches behind to slip her fingers up her cunt and moves her hand behind the nylon screen as she masturbates.
Charlotte then rips open her pantyhose, causing them to tear and ladder down the legs and ripping them open at the rear to expose her fleshy bum cheeks. Laying back on the bed she pulls the ripped nylon hose further apart and fingering the fleshy lips of her cunt she frigs herself off to orgasm in her torn tights.
Get our superb Vintage Flash newsletter each week - all the latest model info, updates, set preview pics and more!