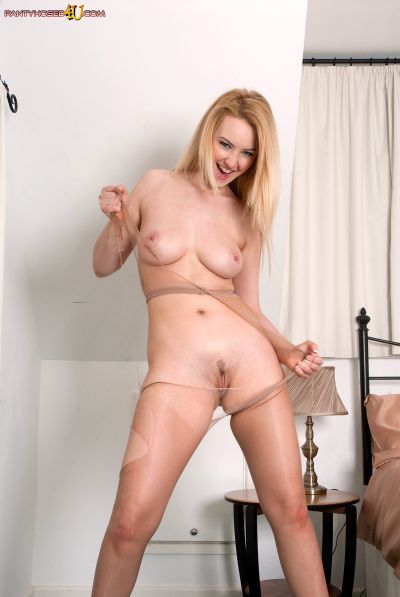 Katie likes her dresses short and tight, so she can show off her pantyhosed ass and legs whenever she is out on the street or dancing at a night club.
The other day she showed me the exact same of outfit she likes to wear: a very short, tight black dress that barely covered her thighs, and some glossy pantyhose and high heels that made her legs look very sexy.
'I love feeling them, up and down like that,' Katie said, squatting slightly to stroke her silky pantyhose and draw her hands up the sides of her legs.
As she leaned over to caress her legs, I was able to look down at her cleavage in the low cut front of her dress. Then as she straightened up, I caught a glimpse of her pantyhosed pussy below the hemline which had slipped a bit higher. 'It turns me on too,' she said, smiling in her customary suggestive way. 'We're naughty fuckers, aren't we!'
Katie turned around and performed the same action from the rear, affording me a good look at her lovely ass and the slit of her pussy concealed behind the naughty nylon layer of her tights.
Inviting me to spank her pantyhoseed ass, she gave it a spank herself, then gripped the cheeks firmly in her hand; followed by a very sexy wiggle which caused her buttocks to undulate inside the envelope of her sheer nylon tights.
Katie then traced a line with her finger up the back of her leg, suggesting I lick all the way up from her heels to the cheeks of her arse; then get my face between her thighs and take a good sniff of her pussy.
After a considerable amount of teasing pussy play in her pantyhose, and listening to her encouraging me to wank off while she talked dirty; Katie finally ripped the rear of her tights wide open to expose the lovely white flesh of her bouncy buttocks.
Katie then turned to face me, and pulling the shredded hose up between the lips of her cunt she masturbated with the taut nylon rubbing against her hot clitoris.
Get our superb Vintage Flash newsletter each week - all the latest model info, updates, set preview pics and more!