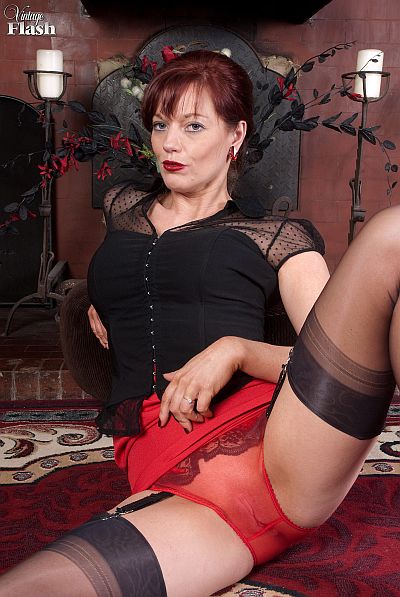 Holly brings out her naughty side and stripteases down to her black satin corset, sheer red nylon panties and black sheer fully-fashioned nylons to masturbate in her latest video at Vintage Flash.
Holly looked very enticing in her black see-through top, tight red pencil skirt and black stockings as she sauntered into the room in her red 5″ stiletto heel leather mules.
Her pencil skirt stretched tightly around the broad cheeks of her ass as she bent forward and reached down to her ankles to stroke her hand up the the black line of her seamed nylon stockings.
Slowly removing her sheer blouse she exposed her breasts, revealing the black satin corset she was wearing underneath. She then teased up the edge of her skirt to adjust her suspenders attached to the tops of her nylon stockings.
Unzipping her skirt she pulled it over the firm round cheeks of her ass encased in sexy sheer red nylon panties. Then kneeling on the chair she positioned herself to give a rear view of her sumptuous arse and sexy legs in their seamed stockings and high heels.
'Let me open myself up and you can plant your cock straight in there,' Holly said, as she leaned back with her stockinged legs parted and pulled the lips of her cunt wide open in invitation to fuck her snatch.
Holly teased her pulsating clitoris with her fingers and massaged the distended lips of her gaping cunt as she as she masturbated openly to reach an intense orgasmic climax.
Get our superb Vintage Flash newsletter each week - all the latest model info, updates, set preview pics and more!