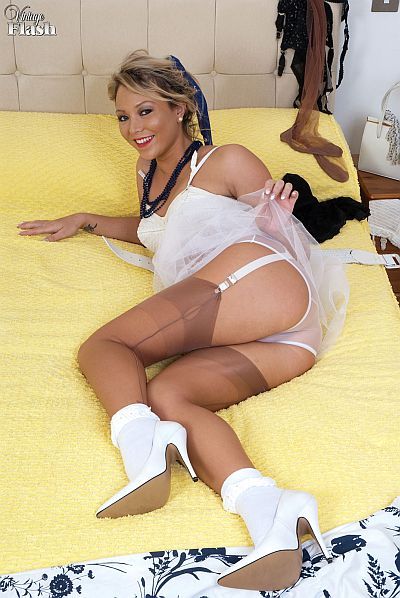 CLICK HERE TO SEE THIS TRAILER OF NATALIA FORREST
Natalia Forrest looks so prim and proper in her full skirted dress, nylons and bobby sox. Add in the 6″ heeled white leather pumps, her sexy net petticoat, bullet bra, garters and sheer white nylon panties, and the mix gets decidedly horny!
'I know you want to see what's underneath but you can't just yet', she says as she teases in her sexy dress. 'Well if you're a good boy, maybe you can!'
Natalia is a mistress of the art of tease, and bending slightly forward continues her seduction.
'Notice my gorgeous fully-fashioned nylons, look at the seam', she says as she smoothes her hand right up the back of her leg to the top of her stockings. 'They show my legs off rather nice, don't you think?'
Getting onto the bed Natalia draws out a delicious tease, talking in a seductive voice as she strokes her stockinged legs, then gradually lets us see up her skirt.
Standing again to strip out of her dress, Natalia shows off her sexy bum in panties, and gives a lovely rear views of crossed legs in seamed nylons as she moves her hands up to the tops of her suspendered thighs and ass.
Then turning to give us a full frontal view of her panties, Natalia's pussy forms a delicious cameltoe through the sheer gossamer material.
Back on the bed, Natalia kneels with her ass in the air and lets you know she wants to, 'slide up and down on you as you lie there underneath me'. Natalia moves her body in a very suggestive way, making those exact movements as she slides back and forth over the bed cover.
Finally peeling off her nylon panties, Natalia lays back with legs open and masturbates to completion. I love a 'good girl' gone bad, don't you!
See Natalia Forrest in this (113 image) photo set and full length movie 'Like A Proper Lady' at Vintage Flash.
Get our superb Vintage Flash newsletter each week - all the latest model info, updates, set preview pics and more!