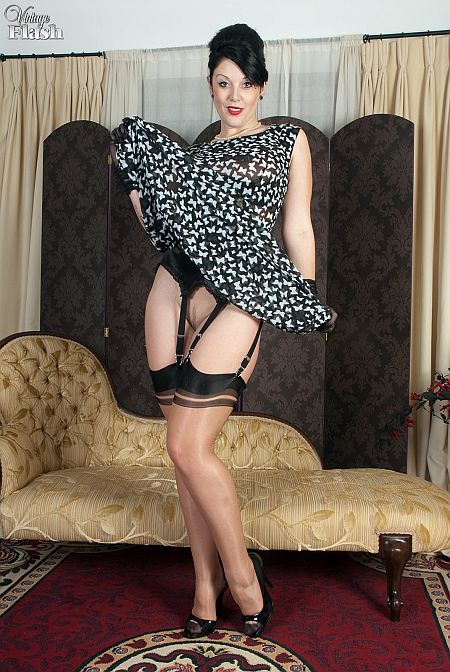 Shay may appear demure in her floral frock, gloves and pearls, but she assures us many similar looking respectable ladies, hide some interesting secrets under their dresses.
Sitting on the chaise lounge with her legs crossed, Shay slowly lifts the hem of her dress, to reveal she is wearing some very sexy contrast top nylon stockings.
Shay brushes her nylon gloved hand against her legs and stockinged thighs, letting her fingers linger around the taut black straps and metal clasps of her suspenders.
Then standing, she pulls at the tops of her stockings, snaps her garter belt against her thigh, and bends forward to let you check out her seams running up those fabulous shapely legs.
'I've been a very good girl and put my knickers on today' Shay says, lifting her dress high enough to reveal she is wearing some sexy black lace panties. 'Some days I like to go without any, and feel the breeze flow up my dress,' she says, teasing us by way of confession.
Kneeling on the chaise with the soles of her stockinged feet just tucked under her buttocks, Shay teases down her black lace knickers over the cheeks of her lovely arse. Then laying on her side so her ass and pussy are fully exposed, she tugs her knickers down her seamed stockinged legs and over her pretty nyloned feet.
Stripping down to her push up bra, garterbelt and stockings, Shay lays back on the chaise lounge to masturbate. Spreading the lips of her hot pink pussy, Shay inserts her fingers up her creamy hole and works herself up to a resounding climax.
See Shay deliver a smoldering striptease, then masturbate in her lingerie and nylons in this (211 image) photo set and hi-def video – 'Shay – On the Chaise'.
Get our superb Vintage Flash newsletter each week - all the latest model info, updates, set preview pics and more!