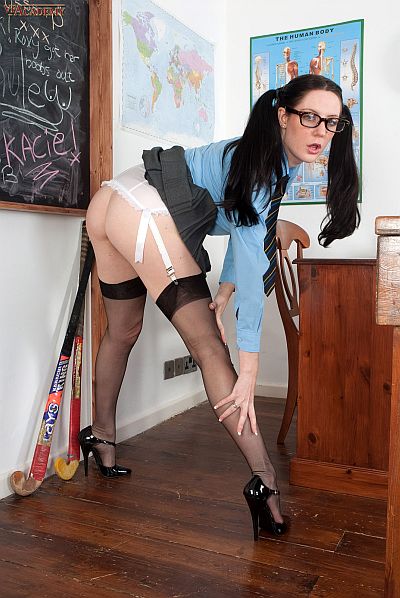 Samantha is normally one of the most well behaved and studious girls at the academy, but today she was caught wearing no knickers while she was bending over, and sent immediately to the detention class.
Nerdy Samantha is not like the other girls, a bit stuck up perhaps, and having heard about the academy's randy janitor from the other girls, she's not too pleased when he turns up to keep her company.
A bit reluctant at first, Samantha soon finds that lifting her skirt to show off her nylon stockings and suspenders is quite sexy, and gets her lots of attention.
'I don't think it's that bad that's I'm wearing no panties, do you?' Samantha says, briefly opening her legs to give a flash of her naked quim, stockings and suspenders under her skirt.
'So you want a close look at my bottom do you?' She asks, lifting her skirt to give a rear view of her arse, then pulling the cheeks apart to give a view of her pink puckered ring. 'I want to get a close look at your cock!'
Climbing onto the teacher's desk, Samantha unbuttons her blouse to get out her pendulous breasts, and give them a squeeze.
Then laying back she spreads her stockinged legs and displays herself fully, tits hanging out of the front of her open blouse and her hand exlporing her sex.
Samantha uses her fingers to part the lips of her pussy flushed pink with arousal, then masturbates herself to orgasm by massaging her hot little cunt.
See Samantha teasing in her nylon stockings and masturbating in this (145 images) photo set and video 'So You Want To See Everything'.
Get our superb Vintage Flash newsletter each week - all the latest model info, updates, set preview pics and more!