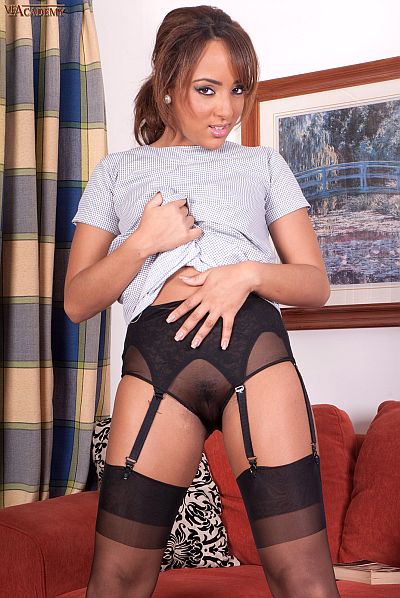 Kayla was at home studying for her exam, when a friend of her brother turned up unexpectedly. He must have let himself in because Kayla was a bit surprised to see him when she looked up from her books.
She soon realized that the guy was there to see her, not her brother, and noticed how he was interested in looking at her legs in black nylon stockings.
Kayla loved the attention she was getting, so she lifted her school tunic to let him take a better look at her black panties, stockings and suspender belt. Kayla stood there with her suspenders framing her pussy, which looked tantalizingly visible behind the sheer nylon of her knickers.
'I bet you want to see my boobs, don't you?' Kayla asked, after stripping off and stepping out of her tunic. Then pulling down the straps of her black bra, she revealed her all natural titties and played with her soft brown nipples.
Kayla turned and stood, then leaned forward to give a rear view of her lovely lingerie, and the seams of her sexy nylon stockings. Then looking over her shoulder, she pulled her black knickers down over the cheeks of her arse, and left them stretched tightly across the backs of her thighs.
Taking her knickers off completely, Kayla lay back on the sofa with her stockinged legs open, and using her fingers she pulled open the lips of her pink teen pussy.
Kayla then inserted a purple vibrator up her cunt, and working the object up her tight love slot, she climaxed with lots of cream glistening over the lips of her teenage vagina.
See Kayla masturbating in her nylon stockings and suspenders in this (166 image) photo set and 15 minute video – 'So, What You Doin' Here!'
Get our superb Vintage Flash newsletter each week - all the latest model info, updates, set preview pics and more!