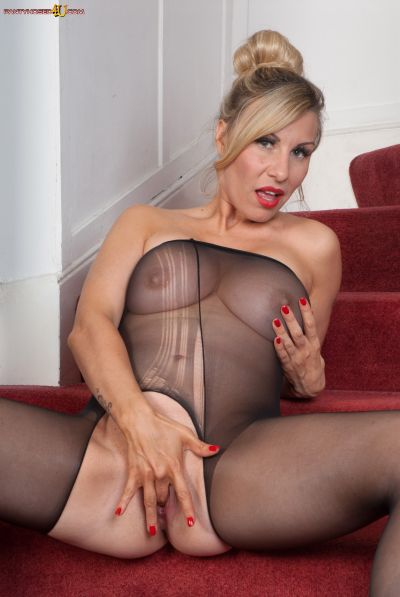 'Today I fancy being a pantyhose slut because I sometimes I do enjoy wearing pantyhose, especially with short mini dresses,' Saffy said, rubbing her nyloned legs together as she stood at the foot of the stairs in her high stiletto heels.
'I feel such a dirty slut in my black pantyhose, and they just feel great against my legs and hips' she said, bending slightly so the hem of her dress raised slightly to give a view of her thighs and arse in pantyhose.
'What I really enjoy is sitting and flashing my pantyhosed pussy, because of course I don't wear any knickers; oh no, I like to feel some fresh air circulating around my pussy.'
Saffy beckoned me to get a closer look at her pantyhosed snatch as she sat at the bottom of the stair with her legs open, and I moved closer to get a better view.
'That turns me on, feeling my nails rubbing against the slit of my pussy and over my clit, so horny,' Saffy continued, as her red fingernails circled over the tight nylon material of her pantyhosed crotch.
'I'm such a dirty slut, I love it when a man rips open my pantyhose to fuck me!' she remarked, digging her fingernails into the crotch of her hose to rip it open, then tugging the shredded nylon apart to expose her hot naked pussy.
'I want you to take your cock and fuck me like a dirty slut', she said, lying on one side pulling the cheeks of her ass apart and offering me her pussy. 'That's it, fuck all my holes, use me like a dirty slut, fuck me good and hard!'
Saffy, turned on by the sight of her pussy surround by laddered nylon pantyhose, worked her fingers up her lubricated slit.
'That's it, I want to be your pantyhose whore, so wank your cock and cum all over my pantyhose, over my arse', she said, getting off on her own filthy words as she masturbated with her fingers knuckle deep in her hot snatch.
See Saffy masturbating to climax in ripped nylon pantyhose in this (136 image) photo set and video – 'Simple Stairway Tease'.
Get our superb Vintage Flash newsletter each week - all the latest model info, updates, set preview pics and more!