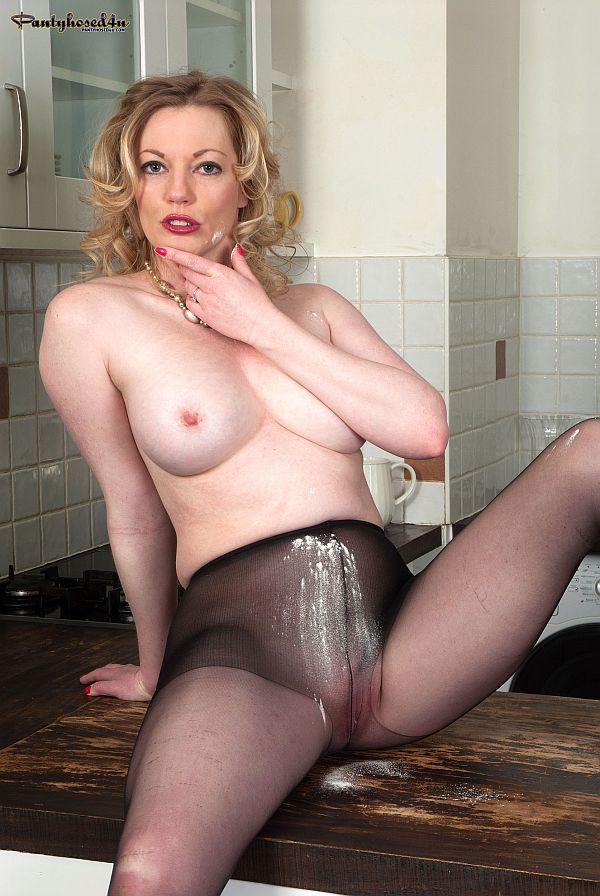 Holly was cooking up a tasty recipe in the kitchen, dressed in just her pink apron and bra, black nylon pantyhose and a pair of heels when I arrived home…
She soon became distracted by my attentions and lifted her sumptuous bottom onto the kitchen top, sliding her pantyhosed ass across the surface so her buttocks spread out under her weight into a perfectly rounded shape.
'I just love black, sheer nylon pantyhose, they give such a sheen on the leg', Holly remarked, shifting around and lifting her slender legs encased in sheer nylon hose, then crossing them at the ankles to show off her sexy strappy heels.
'Does it make you hard, seeing me wearing nothing under my pantyhose,' she said, changing position to sit with her legs open so I could see the slit of her cunt through the front of her sheer nylon tights. 'Well, I see very little point in wearing anything else, as I love the feel of my pantyhose against my hot pussy.'
Holly stripped off her apron and removed her white satin and lace bra, then lay on the kitchen counter with her legs open. 'I'm supposed to be baking, but I really feel this is much more fun,' she said, dragging her fingers across her inner thighs and pressing them over the slit of her pussy sheathed in the sheer, tight fitting nylon of her pantyhose.
'Play with me,' she suggested, as her fingers circled around the area of her cunt that blushed with arousal behind the nylon screen of her pantyhose. 'Let me watch you play with that nice hard cock of yours, while I play with my pussy.'
Ripping open the crotch of her pantyhose she then got into a kneeling position, exposing her cunt and the pucked ring of her arse which was nicely framed by the ripped, nylon hole in the seat of her pantyhose.
Holly reached between her thighs and rubbed the fleshy lips of her hot cunt with her fingers pressed against the head of her throbbing clitoris, which made her writhe with pleasure as she orgasmed in her ripped nylon tights.
Get our superb Vintage Flash newsletter each week - all the latest model info, updates, set preview pics and more!